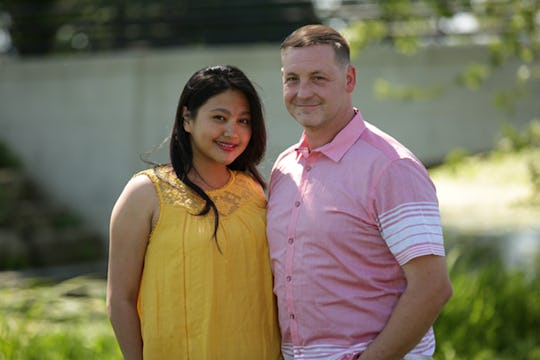 TLC
Here Are Social Media Hints Eric & Leida Are Together After '90 Day Fiance'
90 Day Fiancé hasn't even begun yet and fans are already snooping for spoilers. I understand — who can resist in the age of Google, anyway — and I find myself asking questions like: are Eric and Leida still together after 90 Day Fiancé? The trailer made it seem like they were too different to last, but social media may say another story.
It doesn't seem like Eric, a 40-year-old from Wisconsin, has social media — or at least if he does, it's all locked up. 29-year-old Indonesian Leida, however, does have an Instagram account where she often posts photos of herself and Eric. Lately, she's also posted sneak peeks at the 90 Day Fiancé premiere. Leida also runs a Facebook page called CohenRosen (according to her Instagram bio, anyway), which describes itself as "a brand of an event promoter and an independent sponsor for everyone around the world to experience the international cosplay conventions in the States."
Leida sharing a ton of clips and having a couples shot on her brand's Facebook page doesn't explicitly mean they are still together — but it's a pretty big hint. Not only that, but Leida also has a vlog channel on YouTube where she sometimes features Eric in videos. The latest with Eric (besides posting a 90 Day Fiancé commercial) was a video called "SIMPLE PRESENTS TO MY PARENTS" posted early October. By the way Eric has his arm around Leida, I think it's safe to say that they are still together. Jury's still out on whether they are married, though.
Fans may find this surprising given all the drama Eric and Leida go through already in the trailer for 90 Day Fiancé Season 6. To be fair, this is just a trailer and of course TLC would tease the juiciest moments, but I am excited to see how Eric and Leida overcome their differences regardless. Their big moment in the promo was when Leida was disgusted at Eric's living space. Eric said this was because Leida comes from a wealthy family, but looking at that space myself, I don't think I'd be able to get down with it either. When Leida asks for a maid, Eric firmly says no.
TLC's biographies for the 90 Day Fiancé Season 6 cast address the issues Eric and Leida will face this season as well. "Eric hopes that Leida and her son will help create a happy blended family along with his kids. But the age difference between them has Eric's children concerned about Leida's true intentions," the press release states. "In addition, Eric is fully aware that the life of luxury Leida is used to might make it challenging to adapt to his middle-class lifestyle."
So not only is Eric worried that Leida won't enjoy living the same lifestyle, but he's worried about joining their respective families. These are all valid concerns in my opinion, and considering they got engaged after two days of dating (not a typo), these are probably all topics to smooth out before the "I dos" are exchanged. I have a feeling, due to Leida's enthusiastic social media posting, that they did in fact smooth out everything they had to. It's not a guarantee, though. Who knows, Leida may be posting to keep up appearances and to not spoil anything — which would be pretty sneaky. Fans also don't know what Eric's up to due to his lack of social media himself. Thankfully, fans will find out with certainty about Eric and Leida by watching this season of 90 Day Fiancé.