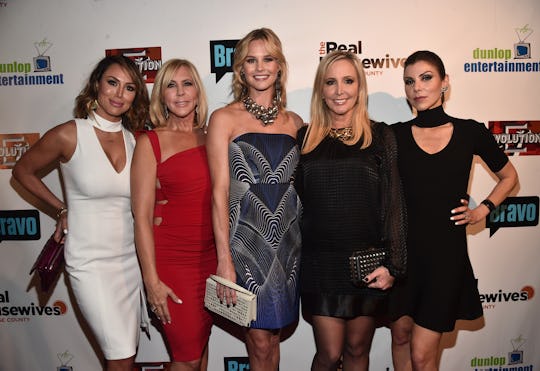 Alberto E. Rodriguez/Getty Images Entertainment/Getty Images
Vicki & Shannon May Have Made Amends In 'RHOC' Season 13
Vicki Gunvalson and Shannon Beador were once friends on The Real Housewives of Orange County, but after that changed it didn't seem like there was any going back. Feuds are regularly mended on the show, but Season 12 saw Shannon avoiding Vicki when they weren't embroiled in an argument. Is there a chance that they might fix their friendship in the upcoming thirteenth season? Or have they already? Are Shannon and Vicki friends again on RHOC?
There are some hints in Bravo's first look at Season 13 that they might be on their way to working it out after all. Vicki is heard asking for forgiveness in a voiceover, though there's no indication that she's talking to Shannon; it's possible the statement is directed at her, but it's just as possible that Vicki is talking to literally any other woman on the show. She also seems to have a falling out with Kelly Dodd this year, so maybe the plea is intended for her. But more telling is the moment when Vicki and Shannon share a smooch while on vacation. They're not onscreen together often in the trailer, but that seems to be a sure sign that the ice between them is thawing. And it's not the only sign.
Shannon has made pretty definitive statements about her friendship with Vicki in the past that made it sound like she wasn't planning to ever make amends. In August 2017, she explained to Bravo's The Daily Dish that a future friendship between her and Vicki was unlikely. According to Shannon:
When you cross the line and make the allegations that she did about my husband, that does nothing but hurt my family, and my job as a mother is to protect my family. And I will cut anybody out of my life that is as hurtful as that. So for better or worse, I wish her well, be happy with your new man, I forgive you. I don't want you in my life.
Shannon also claimed that even if Vicki apologized, it wouldn't help. But just a month earlier in July 2017, Vicki had told the same publication that she was ready to move on, saying, "But I'm hopeful that I can forgive [Shannon and Tamra], and they can forgive me. We both have hurt each other quite a bit. I'm a big believer in forgiveness, and I think now it's time to move on."
Vicki, Shannon, and Tamra Judge did share an embrace during the Season 12 reunion special, but there can often be a lot of back and forth when it comes to relationships on RHOC (or any arm of the Real Housewives franchise, to be honest); one week the women will be on good terms, but the next they'll be back to verbally sparring and tossing wine. However, it seems as though that momentary peace did indeed hold up in the months that followed.
Tamra posted a series of photos in the days leading up to the RHOC premiere that made it seem like she was getting along famously with both Shannon and Vicki. The three women had an eventful visit to Mexico where they dressed up as grannies, drank wine, and took countless selfies. They accompanied Tamra to the hospital after she broke her ankle on the trip, too.
While anything can change when it comes to the Real Housewives, at the moment it looks like Shannon did decide to move on after all. It may have seemed impossible, but she and Vicki are best buds again, which means the new season will be very different from the one that came before.