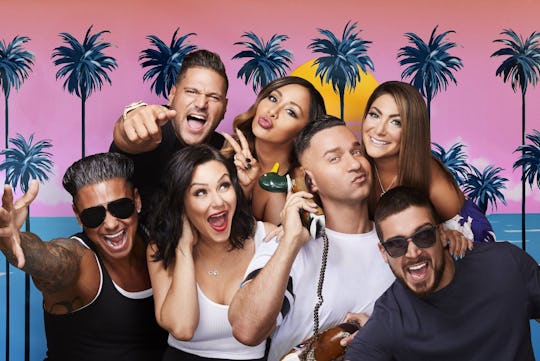 MTV
The 'Jersey Shore' Family Won't Let Angelina Into Their Group Chat
The Jersey Shore family is a pretty tight knit group. Sure, they've had their fights and there is always drama, but for the most part no one understands each other like the cast of the Jersey Shore. That said, there is one clear outlier in the group: Angelina. Because she was not around for very long in the original series and did not get along with the rest of the cast, Angelina has always been an outsider with the rest of the Jersey Shore crew. However, now that she is appearing in Season 2 of Jersey Shore Family Vacation, fans are wondering if the Jersey Shore roomies are friends with Angelina again.
For Jersey Shore Family Vacation Season 2, Angelina was bumped up to a full-time cast member, which means she is spending more time with the cast, but she still is not really part of the group. She is not even in the group chat. In an interview with Jenny McCarthy on her Sirius XM show, Angelina revealed the rest of the Jersey Shore family will not let her into their group chat "for some weird reason."
Nicole then said that Angelina had to "pay her dues" before she was added to the group. "Girl you just got into the family," she said. "Be a family with us. We've been a family for 10 years. You just got here." However, when McCarthy asked what it would take for the cast to let Angelina into the group chat Vinny quickly said, "Never gonna happen." Ouch!
Finally, Pauly D revealed the real reason why Angelina could not be in the chat. "How can we talk about her in the group chat if she's in it?" he asked. Despite this, Angelina still wants in and she said she hopes that her friends will let her. Unfortunately for Angelina, it definitely seems like the "family" is not as eager for her to join as she is, and that is kind of understandable.
Besides not really being a part of the group before, Angelina also had a number of issues with Jenni (JWoww). From the very beginning, the pair did not get along in the original series and then after Angelina's brief stay in the first season of Jersey Shore Family Vacation she threw shade at Jenni on Instagram, tagging her in a photo that said, "Jersey Whore." Though Angelina said she should have never posted it during a recent cast interview with Us Weekly, she still has not taken the photo down.
Regardless, the drama continues during the second season of Jersey Shore Family Vacation when Angelina shows up, surprising everyone except Nicole. Jenni explained during the interview with Us Weekly that she did not feel Angelina should have been around while Ronnie was dealing with his custody battle. "I was just like, 'This is weird for an outsider to be involved,'" Jenni said. "Literally in the middle of Ron dealing with this craziness and we're just going to have this chick walk in and now she's going to have to deal with it? It was just bad timing on all our parts."
Despite the drama that occurs during the new season of Jersey Shore Family Vacation, Angelina said during the same interview that they are taking "baby steps" to getting to know each other. Still, it seems obvious that Angelina and Jenni are not friends and it seems the rest of the Jersey Shore family is still hesitant about letting Angelina in completely. Perhaps one day, like Angelina hopes, she will be fully accepted but unfortunately for her, that day is not today.