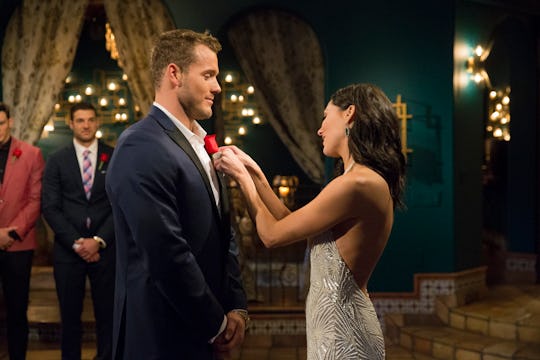 Paul Hebert/ABC
Tia & Colton Might Be Making A Love Connection On 'Paradise'
This season of The Bachelorette, there's almost been as much off-screen drama as there's been on-screen — and a lot of it has to do with Colton. Are Tia and Colton dating after The Bachelorette? Becca didn't say exactly why she eliminated Colton, but it did occur right after Tia told her she still had feelings for him. So fans can judge for themselves.
This whole thing started even before Becca was The Bachelorette. Colton and Tia apparently had a "romantic connection" where the two had spent time together and he was DMing Tia before this season's lead announcement. When Colton told Becca about it initially — during the spa group date where, of course, Tia made an appearance — he said he was here for Becca and didn't want to pursue Tia. Tia herself said the same thing, that she didn't have feelings for Colton anymore. Furthermore, she made it seem like it wasn't a big deal; they had spent a weekend together and just kissed.
Well, after Colton's hometown date, Tia fessed up: she actually still liked Colton and it "made her sick to her stomach" that she felt that way. Becca revealed that she thought of getting rid of Colton post-spa date due to the fact that he and Tia had a fling, but said she didn't because Tia said it was over. That rose ceremony, Becca eliminated Colton.
Now that Colton's "single," are he and Tia dating? Both of them will be on Bachelor in Paradise. As soon as his elimination was aired, the official Bachelorette Twitter account posted that Colton will be joining Tia in Paradise:
Thanks to another one of Becca's Bachelor friends, Bekah Martinez, some details about Tia and Colton's Paradise relationship have slipped out. Bekah stirred up drama on Twitter by insinuating that Tia and Colton lied to Becca and were, generally, "here for the wrong reasons":
The shot is of Colton and Tia, presumably on Paradise, having a grand ol' time. At the time of this tweet, Colton was still on the show and he and Tia had just told Becca they didn't care for each other anymore. This was, then, not only a Paradise spoiler but a Bachelorette spoiler, as Colton was still there for Becca. Now that the season has gone down the way it has, though, this all makes sense.
It's clear that Colton and Tia will date on Paradise. Their post-TV love, however, remains to be seen. Some fans are as salty as Bekah as to how their love went down, but Becca herself defended Tia on her Instagram story (in the form of a screenshot of the iPhone Notes app — she's a real reality TV star now!). "To those who have been bashing Tia, please take a moment to reflect on how it would feel if someone said such hurtful things to you or a friend of yours," Becca wrote. She came to her friend's rescue, and said that she shouldn't be judged for a few-minute clip on TV. She continued, "Tia is a kind, strong, upfront, funny, spunky and caring woman. She has a huge heart and if anyone sat down with her for three minutes they would realize that."
This shows that Becca is not only a great friend, but there is no bad blood between the two. If Becca were truly in love with Colton, I think the three of them would've hashed out their love triangle. But Becca has three other great men — Blake, Garrett, and Jason — left, and it seems like her future husband could be in that group. Colton and Tia's post-Paradise fate is uncertain, but I'm sure no matter what happens between them, that Tia and Becca will remain friends (which is, in my opinion, more important).