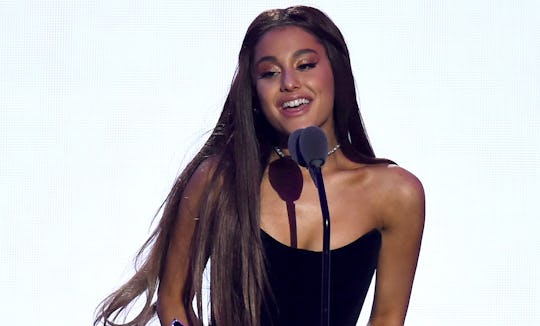 Theo Wargo/Getty Images Entertainment/Getty Images
Ariana Grande Shut Down Another Pregnancy Rumor, Because Ugh
As a celebrity and mega-pop star it's, for better or worse, a given that someone of Ariana Grande's stature would be on the receiving end of endless criticism and attention. So, of course, Ariana Grande shut down pregnancy rumors — again — in a very good-natured Instagram post, because people can't seem to mind their own reproductive business.
Of course, Grande isn't the only celebrity woman to stuffer through an endless slew of pregnancy rumors. Jennifer Aniston, for example, has been particularly targeted by the possible pregnancy police, to the point that she penned an op-ed in the HuffPost discussing this incessant need for people to assume she'd inevitably have a child. People assumed she was constantly knocked up because she didn't have a child, and all women must have a child eventually.
People are assuming Grande is pregnant for different reasons, though, although certainly the presumed inevitability of motherhood plays a roll. She did just go from zero to 60 in her relationship with Saturday Night Live star Pete Davidson: they started dating in May, according to NME, and just a month later, they bought an apartment together, got multiple matching tattoos, and ended up engaged. Grande's whirlwind romance no-doubt put the pregnancy rumor mill in motion.
But what really set things off was an Instagram post from Grande last week, in which she promoted her perfume, Cloud. No, it wasn't the baggy sweatshirt she wore (and a pox on each and every person who uses that excuse to accuse a woman of being pregnant). In the background of that innocent photo, as you can clearly see, is a Pack 'n Play.
This was, perhaps, compounded by a joke that Davidson made on the season premiere of SNL recently, when he addressed the gossip-hungry public's curiosity about his unlikely relationship. "Last night, I switched her birth control with Tic Tacs," he told Colin Jost during the show's "Weekend Update" segment. "I believe in us and all, but I just want to make sure that she can't go anywhere." This struck a sour note with some of Grande's fans, but remember, he's a comedian, and his brand of humor often skews off-color. If she doesn't have a problem with it, let it be.
But back to the Pack 'n Play. Grande and Davidson don't have any nieces or nephews, so what's up with that? The comment section blew up with people crowing about Grande's "baby crib." But that heat lamp attached to the side should have clued fans in, because that's not typically how one keeps a small child warm (please don't do that). After letting fans twist in the wind for five days, Grande posted another Pack 'n Play selfie and put the mystery to rest with the caption, "once again, that is for my pig i still do not have a secret child."
Yes, Grande and Davidson are the proud parents of a baby mammal, just not a human one. And as Davidson told Seth Meyers during a recent Late Night appearance, it happened — as things always seem to with these two — really fast. "Can I just say, this girl, she was like, 'I want a pig!' And then an hour later it was just there," he told Meyers. "Like, I'm still trying to get a Propecia refill for the last two weeks, and this chick got a pig in a f*cking hour." Piggy Smalls is just a few weeks old, but it looks like he'll be sticking around for a while and Davidson has already gotten a tattoo of him on his left hip. Congratulations to the whole family.