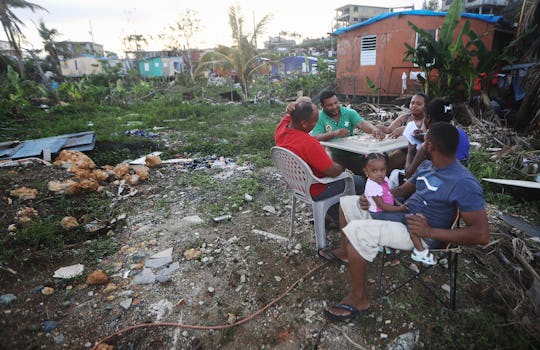 Mario Tama/Getty Images News/Getty Images
As One Children's Hospital Regains Power, 80 Percent Of Puerto Rico Remains Dark
More than a month after Hurricane Maria devastated Puerto Rico, many of the island's people are still suffering. Most don't have electricity and clean water is still scarce. Parents are out of work and kids are out of school as the government, aid workers, residents work to reestablish a sense of normalcy and safety across the island. But, there are signs of much-needed progress, such as one children's hospital in Puerto Rico regaining power, thanks to a successful project led by electric car maker and solar energy energy company Tesla. Still, though, the mainland United States and Puerto Rico have a long, long way to go before the hurricane's awful effects are mitigated for Puerto Ricans. But, this humanitarian donation is a positive step to improving outcomes for some of the most vulnerable.
Tesla, helmed by CEO Elon Musk, announced Tuesday that it had completed what the company called the "first of many solar+storage projects" in the storm-ravaged U.S. territory. Specifically, it had installed solar panels to allow San Juan's Hospital del Niño, or children's hospital, to operate 100 percent off the grid using all the power it needs, according to The Los Angeles Times.
Obviously, this is a welcome and perhaps even life-saving improvement, as Vox reported on Monday that about 79 percent of Puerto Rico did not have power.
Tesla installed the panels, which are a donation for the duration of the crisis, three weeks after Musk Puerto Rico Gov. Ricardo Rosselló hatched the idea to do such a project over Twitter. And that's fantastic news for the 35 patients who called San Juan's Hospital del Niño home, as well as the 3,000 young patients who use its services.
Still, the situation is mostly dire for much of the country. To date, more than 50 people have died as a result of the storm and the living conditions it left in its wake, some because they could not access critical medical care in the wake of the storm. "[N]ow those people are living like the homeless," Puerto Rico Economists Association president Jose Caraballo told the Associated Press recently. "They don't have a roof, they don't have water, they are caring about more basic things such as food."
And many children and their families are very much concerned about something else, too: getting back to school. Last week, The Washington Post reported that all 1,113 of the island's public schools were closed after the storm, with just some of them scheduled to reopen to students this past Monday. At the time, 70 of the schools were reportedly too damaged to reopen, 167 were being used as community centers, and the remaining 99 had been repurposed as shelters for the scores of families who lost their homes to the hurricane.
Not going to school has left many kids mind-numbingly bored and anxious to get back, as Yahaira Lugo, who has been staying in one of the schools-turned-shelters, told the newspaper of her four children:
What do I do with them all day? There's nothing. No TV. No Internet. Our books are gone, and there's no place to go.
In the weeks after Hurricane Maria pummeled Puerto Rico, the U.S. government became the target of widespread criticism for its slow, lackluster, and even combative response to the tragedy. President Donald Trump defended the reaction, first claiming that it was difficult to coordinate aid because Puerto Rico is an island surrounded by a "very big ocean" before attacking San Juan's mayor, Carmen Yulín Cruz, when she implored the U.S. government to do more to help the island. In light of the criticism, though, Trump has finally stepped up the efforts to do just that. Now, Rosselló hopes to restore up to 95 percent of the island's energy grid by December.
With time and hard work, the situation will begin to improve. Significant humanitarian actions such as the one that Tesla carried out for the children's hospital in San Juan would certainly speed that process along. In the meantime, Puerto Ricans can use all the support — financial and otherwise — they can get from their fellow Americans.