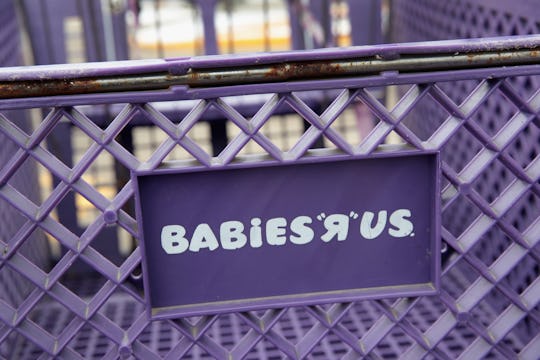 Scott Olson/Getty Images News/Getty Images
Babies "R" Us Closing Dates Aren't Confirmed Yet, But The Clock Is Ticking
Nostalgic shoppers everywhere felt a pang this month at the news that beloved store Toys "R" Us would be closing its stores in the United States, and that the company's chain for younger tots would be included in the shut-down. Now, many customers want to know: What is the Babies "R" Us closing date? The company has yet to announce an official day that the doors will shut for good, but the clock is ticking, so you'd better stock up on all those baby essentials ASAP.
Romper has reached out to Toys "R" Us for comment on an expected closure date and did not immediately hear back. But in its bankruptcy filing earlier in March, the chain said, according to USA Today, "The stark reality is that the (chain is) projected to run out of cash in the U.S. in May." The filing said that going-out-of-business sales would start immediately, while employees would be paid for "no fewer than 60 days," and gift cards would be accepted for 30 days. CNN Money reported that the company will be holding a bankruptcy hearing on Tuesday, after which consumers might learn more specifics.
Meanwhile, Business Insider reported that the company plans to shut down stores and warehouses in certain states by May 14, while Toys "R" Us liquidation sales could start as soon as Thursday.
All in all, it may be hard to find the exact date that your local store will close, but it seems likely that it will be within the next couple of months. But there's one reason that many Babies "R" Us fans are particularly worried, and eager to learn details about official closing dates — baby registries.
People who went through all the hassle of making a baby registry at Babies "R" Us want to know if they did it all for nothing. And the answer is... maybe? It depends on how long you need your registry to stay up. According to Toys "R" Us CEO Dave Brandon, as CNN Money reported, the company will maintain its Babies "R" Us registries and online store for "the next few weeks." Part of the reason for that is that the company is still looking for a buyer who wants to take on about 200 of the chain's best-performing stores. And if that buyer "wants to keep a foothold in the US they will likely do that in such a way that they can retain customers, [such as] people involved in our baby registry programs," Brandon reportedly told employees, according to CNN Money.
Still, finding a buyer is far from guaranteed, so if you'd been relying on a Babies "R" Us registry, it might be wise to start making some contingency plans now. Lots of people are feeling bummed about the upcoming closures. Toys "R" Us (and Babies "R" Us) has been around for decades, and many parents who love taking their children there now loved going there themselves when they were kids. Those earworm-y Toys "R" Us commercial jingles were stuck in the heads of '80s and '90s children for years. Many of those Toys "R" Us kids still don't totally want to grow up and face the fact that their childhood paradise will soon be no more.
But, of course, the company had trouble competing with online retailers like Amazon, and with big box stores like Target and Walmart, which could sell the same toys for lower prices, and in a convenient location where parents could also fulfill their own purchasing needs. As USA Today reported:
Babies R Us has about 5% of market share for online baby product sales, trailing Amazon.com's almost 20%, according to market researcher IBISWorld.
While it's not a total surprise that Babies "R" Us is closing, it's still a bummer. (In addition to the nostalgic twinge, the store shut-down also means that some 31,000 workers will reportedly lose their jobs, according to CNN.) Although the closing date may not yet be totally clear, one thing is certain: if you love shopping at Babies "R" Us, time is running out.
Check out Romper's new video series, Bearing The Motherload, where disagreeing parents from different sides of an issue sit down with a mediator and talk about how to support (and not judge) each other's parenting perspectives. New episodes air Mondays on Facebook.