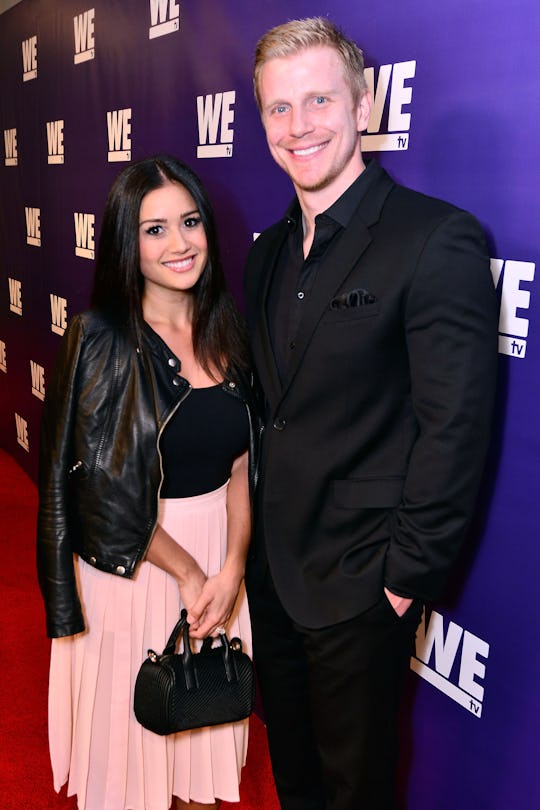 Jerod Harris/Getty Images Entertainment/Getty Images
'Bachelor' Alum Catherine Giudici Lowe's 2-Year-Old Son Had A Scary Pool Moment
Even when there are multiple sets of eyes on your kid, some things are just out of a parent's control. Catherine Giudici Lowe and Sean Lowe of The Bachelor learned that recently when they were at a pool with their two sons. In an Instagram post on Monday, Catherine Giudici Lowe shared the scary pool moment her son experienced a few months ago as a message of caution for parents.
Alongside an adorable photo of her 2-year-old son, Samuel, Catherine provided a "WARNING: Sappy Mom Content 🚨" before launching into a terrifying story. "One week after Isaiah was born, Samuel mistakenly walked into the deep end of his grandparents' pool and it was possibly the scariest moment of my life," she wrote. "Sean and I were watching his every move so we acted quickly to get him out (I was much more traumatized than he was)."
Luckily, Samuel was totally fine — but Catherine and Sean quickly decided to take precautions to prevent a similar situation from ever happening again. "We immediately put him into swim lessons and made sure he always has floaties on. Today was his LAST DAY of swim lessons and now he can swim to the side like a champ!" Catherine's post continued. "I'm so proud of this big guy even though he cried through almost every single class. 😅 Watch out world, this little shark is a-swimmin! #sharkweek."
According to the national public education campaign Pool Safely, drowning is the leading cause of accidental death for kids from 1 to 14 years old. Additionally, one in five people who die from drowning are children 14 years old and under, noted the Centers for Disease Control and Prevention (CDC).
In order to keep children safe at the pool, the CDC has a few recommendations, including signing your child up for formal swimming lessons; learning CPR; and making sure children are always supervised by an adult when near water — and if your child is preschool-aged, they should always be surrounded by "touch supervision," which means an adult should always be close enough to reach the child. Furthermore, Healthy Children has a list of recommendations for child-proofing a home swimming pool, such as making sure there are never tempting toys in the pool when not in use; installing a climb-resistant fence; and installing an automatic pool cover.
It's clear that the Lowes learned from Samuel's scary experience, and they are taking all the right steps to make sure it never happens again. Since the incident (which seems to have happened around May 25, since she said it was about a week after Isaiah was born, which was on May 18), both Catherine and Sean have posted several photos of Samuel at the pool, and he's outfitted in a very secure-looking set of floaties in each shot.
And about two weeks ago, Sean posted a super cute photo of Samuel in what looks like a tiny pool or hot tub from their family vacation. "You do nothing but watch cartoons all day and eat my food, but sure, you definitely deserve a vacation," Sean jokingly captioned the shot. There are no floaties in sight, but perhaps Catherine and Sean felt comfortable letting Samuel in the pool au naturel because it was so shallow and because he clearly kicked butt in his swimming lessons. That being said, young children can drown in less than 2 inches of water, according to Neumors Health System, so it's always best to stay within "touch supervision" to be safe.
It's awesome that Catherine felt comfortable sharing this story online, because hopefully it will help educate other caregivers on the importance of pool safety.