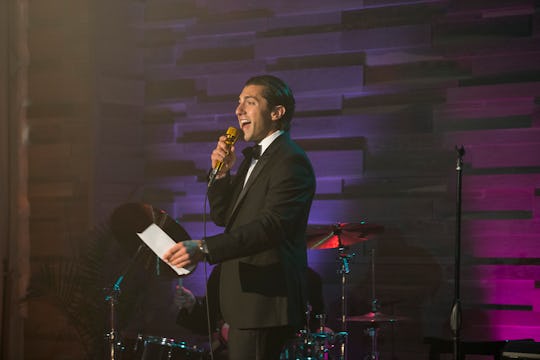 Paul Hebert/ABC
Twitter Loved Becca and Jason's Date On 'The Bachelorette'
"Virginia is for lovers," or so Becca kept saying on The Bachelorette. During the Richmond trip on Monday night's episode, Jason finally got his 1-on-1 date with Becca. It seemed like a hodge-podge of activities at first, but culminated in Jason's friends visiting — which I couldn't get enough of. Becca surprised Jason with his friends on their Bachelorette date and Twitter fans, like me, loved it.
During their Richmond date, the two went on a historical tour of the town together, complete with the Edgar Allen Poe museum and frosting donuts. The two also attended an "Unhappy Hour" with goths. I've never been to Richmond, but that sure seems like a tourist attraction I wouldn't miss.
The best part of the date, though, was definitely Becca's surprise. The two arrived at a brewery together and, unbeknownst to Jason, three of his friends were there. First off: Jason's reactions to his friends were adorable. Seeing as Bachelorette contestants can't have phones on them, Jason probably had no contact with his friends since arriving. It's 2018, and no friend contact seems impossible! So I commend Jason for doing it, and I can't imagine how happy he must've been to see them.
Fans didn't learn a lot about his visitors, but they did tell Becca all about Jason himself. They seemed like true friends, and the audience couldn't contain their excitement on Twitter:
This was Becca and Jason's first one-on-one date together, but they've definitely made a connection while on group dates. That is, after Becca learned his name. During the spa group date, where Becca's friends from her Bachelor season came to get pampered by the guys, Becca introduced everyone. When she came to Jason, she forgot his name. Yikes. I know some of the other contestants would've been offended and let it affect how they treated Becca — but not Jason.
Jason said she "said it to the right guy," because he was totally chill about it (he also made a joke on Twitter when the episode aired, so he's a man after my own heart):
Since then, they've just grown closer when they've had moments together. They've shared some kisses, and according to Becca's lead up to the solo date, "Since night one, I felt like Jason was just a great guy and I've always really liked my time with him." Even though she did forget his name, I can forgive her because she does seem very into him. She said in a voiceover during the date, "Jason is really growing on me. I don't know where this connection and this chemistry is coming from with him, but I could really see me saying yes to a forever with him."
After the visit with friends, the dinner portion of the date got super intense. Jason told Becca about his family's history with Alzheimer's, and how his grandmother's struggle taught him to cherish every moment with someone. Becca, too, has had hardship in her life. She lost her dad when she was 19, and it's affected how she's lived her life as well.
I have to admit, I didn't think Jason would last this long in the competition at all. But this one-on-one proved that he's a dark horse who definitely has a chance to sweep Becca off her feet. I'm excited to see how far he goes — Hometown dates? Fantasy suites? Top 2? because they both seem to be falling for each other. After this date, I also know that no matter what happens, he has a group of friends that'll be there for him.