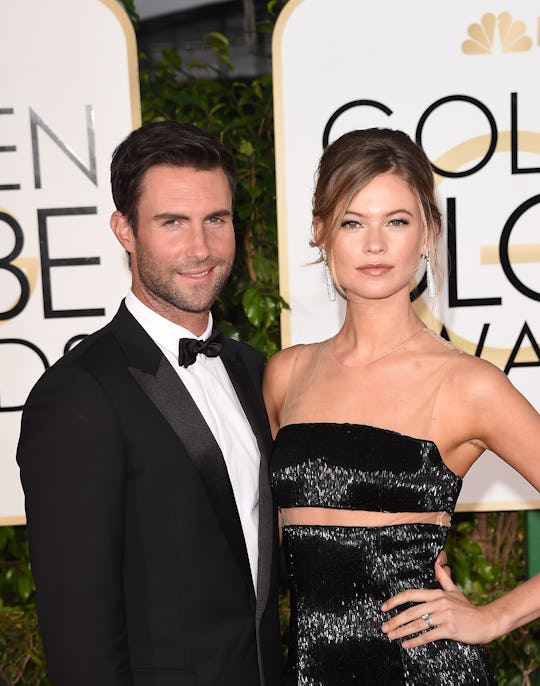 Jason Merritt/Getty Images Entertainment/Getty Images
Behati Prinsloo Revealed She & Husband, Adam Levine Want More Kids
Maroon 5 frontman and The Voice judge Adam Levine and his wife, model Behati Prinsloo, are two very busy people. But in spite of everything that is on their respective plates, they still find the time for each other and the time to be the parents to two children. And they definitely want more — at least, according to Prinsloo's newest Instagram story. In a question and answer session on Instagram, Behati Prinsloo revealed she wants more kids with Levine and it could not be any more exciting for fans of the couple.
Thank goodness for the new question and answer feature on Instagram, which has allowed for Instagram followers to get to know their favorite celebrities a little bit better. This was true for Prinsloo's followers after she opened up her Instagram Story to questions from fans on Sunday night, according to Us Weekly — and they asked some pretty good ones. During the session, Prinsloo revealed her favorite color (mint green), the places she would love to visit (Cuba and Australia), and her dream job (a marine biologist). But perhaps what was the most revealing was when she posted that she isn't done having kids.
When one follower asked her how many kids she wanted, Prinsloo replied "Ugh, so many" followed by a dozen or so baby emoji, according to Us Weekly. While it's likely she doesn't want that many babies, her story definitely confirms that she is ready for more kids. Yay.
As previously stated, Prinsloo and Levine are already the parents to two young daughters — 1-year-old Dusty Rose and 5-month-old Gio Grace, according to People. But in spite of their young ages and the fact that Prinsloo has only been a mom for such a short amount of time, it is super clear that she loves having kids and being a parent.
Her husband is on the same exact page, according to People. Two months ago, during an appearance on The Ellen Show, Levine told the show's host, Ellen Degeneres, that Prinsloo does indeed want as many kids she stated on her Instagram story. Levine said, according to People:
At this rate, I think I'm definitely going to let my wife be in control of the timing of the next child. We want, like, a lot. At least five....we have to have a band of children.
And during another appearance on the Ellen Degeneres Show last year, while Prinsloo was pregnant with Gio, according to People, Levine told Degeneres that Prinsloo wanted "about 100 kids." "I want a lot, I thrive in chaos," Levine said, according to People. "She was an only child so she wants like 100 babies. I don't know if I can do that. That's a lot of babies."
And in case fans didn't want to take Levine's word for it, then they can take Prinsloo's word for it. In the past, Prinsloo has reiterated the fact that she does indeed want a lot of kids, based on how transformative motherhood is. Prinsloo told People in 2017 that she found a "next-level love" through giving birth to Dusty Rose and because of that, she is more than ready to expand her family with Levine. "I think for both of us, we're just so obsessed with being a family and having a family — seeing this next step in our lives," Prinsloo said, according to People.
But talking about how many kids she wanted wasn't the only time that Prinsloo talked about being a mom in the question and answer session on Instagram. When one fan asked Prinsloo who inspired her the most she answered, "All Moms". Awwww.
Their words on wanting more kids is so sweet. Based on the fact that they talk about expanding their family so often means that they're pretty serious about growing their family — and it seems that they're super ready to do so. Prinsloo's comments on her Instagram story on Sunday night only prove that.