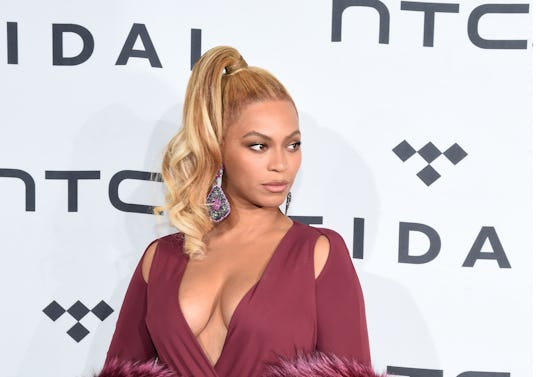 Ilya S. Savenok/Getty Images Entertainment/Getty Images
Beyoncé Silences Pregnancy Rumors With One Inspirational Move
Only a year after Beyoncé gave birth to her twins, Rumi and Sir Carter, speculation about a third pregnancy ramped up. During the months of June and July, people carefully scrutinized Beyoncé's On the Run II tour outfits, while Twitter detectives looked for hidden messages in her dance moves. Apparently, occasionally wearing baggy clothing and placing your hand on your stomach for a few seconds means you're pregnant. Sigh. The good news? Beyonce responded to the pregnancy rumors in the most inspirational way possible. Not only does Beyoncé's reply silence all of the speculation, but it hits back at body-shaming.
It's difficult to recap all of the Beyoncé pregnancy rumors in one place because there are so many. Take Beyoncé's supposedly suspicious Instagram photo from July 12, for instance. In the snap, Beyoncé casually poses in front of a wall featuring the number four, and she looks phenomenal as usual.
Of course, the Beyhive took the post to mean that baby number four is on the way. "4th babbby? Awww Beeey," one fan commented on the post, according to Instagram.
"Oh she having her 4th baby," someone else agreed.
Although I'm all for a good conspiracy theory, the fan speculation reached an especially uncomfortable point when people started analyzing Beyoncé's body. And it all kicked off with a video of Beyoncé sporting a supposed baby bump at a concert on July 18.
"Told y'all she is pregnant. She will still perform though," one fan penned. "I believe."
Beyoncé must have caught wind of fans' inappropriate attention to her uterus because she seemingly addressed it on Wednesday at a concert in Cleveland, Ohio. In a video of the moment that made the rounds over the weekend, Beyoncé pats her stomach while asking the crowd, according to Cafe Mom: "Y'all know that your flaws make you beautiful, right? You know that, right?" Beyoncé then launched into a rendition of her body-positive anthem, "Flawless." Tell 'em, B.
Although there are a number of ways Beyoncé could have addressed the gossip, this method was undeniably the most powerful one. For starters, it's awesome Beyoncé took the opportunity to start a conversation about body-shaming. Not enough celebrities talk about this important issue, and it's wonderful to see Beyoncé using her massive platform for good.
Additionally, Beyoncé let the crowd know that she is human. Just like any person out there, Beyoncé's body goes through changes from time to time. Weight fluctuation is incredibly normal, especially for someone who just gave birth a year ago. Let the woman live.
And most importantly, Beyonce is drawing attention to the society's obsession with spreading pregnancy rumors about every person out there with a stomach. I've been pregnant for most of my life based on this thought process.
Following Beyoncé's powerful response, fans took to Twitter to sound off on the situation.
"The fact that Beyoncé had to pat her stomach weight & say 'I woke up like this, I'm flawless' goes to show she be seeing what y'all saying about her, we been knew, but y'all was really calling her fat," one person wrote, according to Twitter.
"I don't think she pregnant either. Look at those legs. Every new photo I see she is getting more muscle which thickens up a person too. Ppl just love to create drama," someone else added, according to Instagram.
"So what if she has a pooch. She shouldn't consider it a flaw, she just had twins!" another person chimed in.
"I knew she wasn't pregnant. Luv you Queen @beyonce," a fan wrote.
Others, however, still think Beyoncé is pregnant. Really.
"Monday Morning Tea: last Wednesday, Beyoncé rubbed her stomach as she sang the lyric, 'I woke up like this' to subtly tell us all she is indeed pregnant again," one commenter penned on Twitter.
"Lol but she never said is not pregnant she can tryna throw us off," someone else added, according to Instagram
"Where'd she let me know? Cause that could be I woke up pregnant," a person pointed out.
Although it's frustrating people continue to speculate about Beyoncé's body, rest assured she probably doesn't care. Beyoncé already knows she's flawless, and that's all that matters.