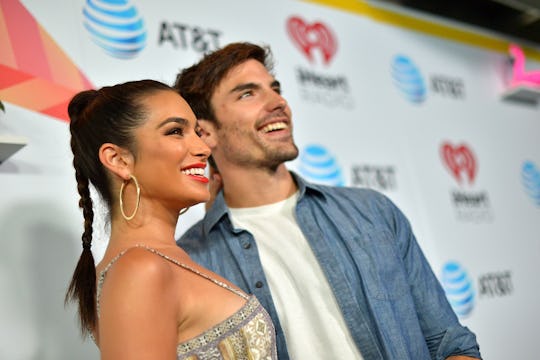 Charley Gallay/Getty Images Entertainment/Getty Images
'BiP's Ashley Iaconetti Wants To Start Having Kids Sooner Than You Might Think
Another Bachelor Nation baby might be on the way sooner than you think. The newly-engaged Ashley Iaconetti and Jared Haibon, who first met on Bachelor in Paradise three years ago, are already thinking about starting a family. In a new interview with People, Ashley Iaconetti revealed when she wants to start having kids with her fiancé Jared Haibon.
"I just know that I want to start trying to have kids at 32," Iaconetti told People. Iaconetti turned 30 in March, which means she has nearly two years before she plans to start trying to conceive. "We're engaged now, so we'll get to the wedding and then maybe pop out a couple kids!" Haibon added.
It sounds like wedding planning will take up a lot of the couple's time before they start family planning, as they're hoping to have a big wedding. "We're both definitely on par with a bigger wedding. We've always imagined that," Iaconetti told People, adding that they're likely get married in about a year.
Iaconetti first competed on Chris Soules' season of The Bachelor, and Haibon first competed on Kaitlyn Bristowe's season of The Bachelorette. They only got engaged last month, but their relationship started three years ago. The couple told the tale of their romance on Iaconetti's YouTube series The Story of Us in May, where they revealed how their on-and-off relationship played out off-camera, Refinery29 reported. Warning: the video is 44 minutes long.
Here's how things first started for the couple. After seeing a photo of Haibon, Iaconetti admired him from afar for a while, and then they finally connected on Bachelor in Paradise in 2015. Haibon was still heartbroken from his breakup with Bristowe, so even though Iaconetti was already feeling Haibon's vibes, they didn't work out. They remained friends after the show, and they both went on to other Bachelor shows — Haibon to Bachelor in Paradise Australia and Iaconetti to The Bachelor Winter Games.
By the time Haibon realized he had feelings for Iaconetti, he was filming in Australia, and she was already dating Kevin Wendt from The Bachelor Winter Games. When Iaconetti and Wendt split up in March 2018, Haibon didn't hesitate to reach out. Their friendship turned into a relationship, which they announced in May, and by June, they were engaged.
When the couple first confirmed they were dating in May, Iaconetti opened up to People about why they released such a lengthy video about their relationship. She told the outlet at the time:
Bachelor Nation hasn't seen so many of the important details that make up our story. I thought there was no better way to explain to the people who have followed our love lives for over three years than by filming our own episode of The Story of Us.
All that cuteness being said, their friendship was very rocky, especially during their stint on Bachelor in Paradise three years ago. A conflicted Haibon told an enamored Iaconetti that he would be leaving Paradise (therefore ending anything between them) in front of the cameras, shortly after they spent an overnight date together. The heartbreaking breakup scene and Iaconetti's weeping still lives on on ABC's website.
Luckily for Iaconetti, Haibon turned things around, and I assume he promised to never break her heart like that again? In an interview with HollywoodLife last month, Haibon explained his moment of realization about being in love with Iaconetti. He told the website:
I have just been an idiot and I finally had a come to Jesus moment, and I am the luckiest man alive because Ashley still loves me.
Iaconetti and Haibon had such a unique path to their engagement, and it's clear they couldn't be more excited to start their lives (and eventually a family) together.