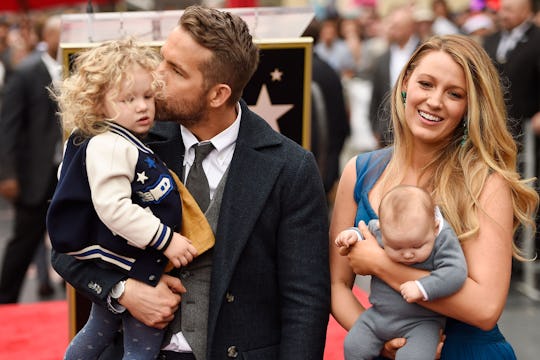 Matt Winkelmeyer/Getty Images Entertainment/Getty Images
Blake Lively & Ryan Reynolds Lost ALL Chill Hearing James' Voice At Taylor Swift's Concert — VIDEO
Taylor Swift fans were ecstatic when they caught Blake Lively and Ryan Reynolds attending Swift's concert this Saturday. Outside of jamming to the songs, the couple had an obvious reason to attend Swift's concert: their daughter's cameo. Thanks to a video captured by a fan, you can see Lively and Reynolds reacting to their daughter's voice in Swift's song, "Gorgeous," and their faces and excitement when it happens perfectly encapsulate this relatable parenting moment.
Right now, Swift is on the North American leg of her Reputation stadium tour. On Saturday, Lively and Reynolds were spotted at the Gillette Stadium in Foxborough, Massachusetts, according to CBS News. They weren't alone in the VIP section, as fans also caught sight of other celebrities, like Gigi Hadid.
On this tour, Swift is performing songs from her new album reputation, released Nov. 10, 2017. However, before the entire album dropped, Swift released "Gorgeous" as a single. At the beginning of the track, there's a baby's voice that can be heard saying the track's titular word before Swift begins singing. Fans were quick to investigate who, exactly, this mysterious baby was. Many fans assumed that it was James, Lively and Reynold's eldest daughter, basing it off the fact that Swift is pretty close to the two of them, according to E! News.
Never underestimate the detective skills of fans, because they were right! It was little James making a cameo on "Gorgeous," as Swift confirmed last fall, according to Glamour. And, at the concert on Saturday, Lively and Reynolds were not going to the miss the moment they heard their daughter's voice in a concert setting.
In the video captured by a fan also in the audience, Lively can be seen holding up a cellphone to record. The moment Swift introduces "Gorgeous" as the next track, Lively and Reynolds start screaming excitedly and dancing. It's an adorable moment and that type of pride in anything their kid does is something most parents can relate to.
Fans were quick to reply to the video, pointing out just how cute the moment was.
Hearing James voice is also pretty big, considering how fiercely private Lively and Reynolds are. For a while, all people knew was that James was born in 2014. An exact birthdate was never released until a full year later, when Reynolds took to Twitter to wish his baby girl a happy birthday. The couple also has a second daughter, Inez, who they also didn't release much information about until recently.
Earlier in 2018, Lively even asked fans to remove pictures of James that were taken by the paparazzi and uploaded across the internet. It's understandable why the couple is so protective of their children's right to privacy, but it still says a lot about their relationship with Taylor Swift that the artist was allowed to use their daughter's voice on a track.
During an interview with Good Morning America, Reynolds spoke a little about James' appearance on Swift's album. "I don't know about starring, but a little intro there, yeah," he said, according to Entertainment Tonight. "That was a voice memo that ended up on a [Taylor Swift] song. It's pretty amazing."
One fan on Twitter, who said she attended a secret session (in earlier comments, E! News reported that Swift had alluded that "300 people" knew who the baby's voice was), revealed why James was on the track. "Taylor was with Blake and Ryan at the beach and was playing gorgeous for them on her guitar, and then their daughter, James, kept saying 'gorgeous' over and over .. so Taylor was like, 'could i use that?' and the intro was born," as the fan wrote on Twitter.
However James ended up on the track, her cameo is maybe one of the best parts of it. And it was definitely adorable to see her parents reacting so excitedly, complete with recordings and dancing. It helps illustrate that, at the end of the day, stardom doesn't really change those key aspects of parenting.
As a parent, you're going to be ridiculously proud of whatever your child does. And, you're going to rush to get it on video.