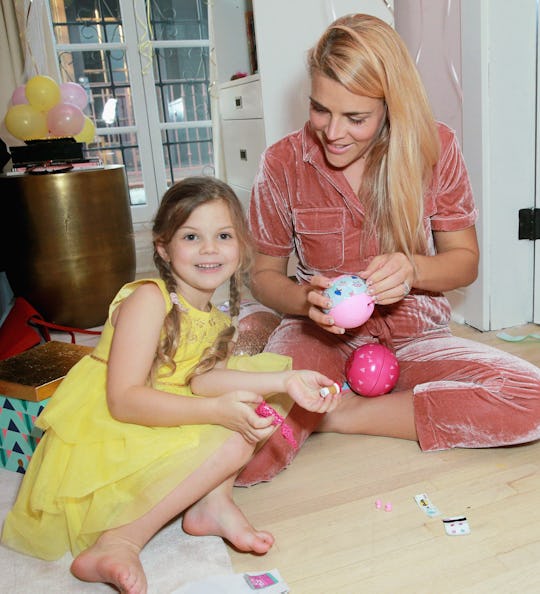 Rich Fury/Getty Images Entertainment/Getty Images
Busy Philipps Explains How Her Daughter Got Her Unique Name
On top of being an actress and an A+ Instagram user, Busy Philipps is a mom of two daughters: Birdie Leigh, 9, and Cricket Pearl, who turned 5 on Monday, July 2. In honor of Cricket's birthday, Philipps shared a precious throwback photo of Cricket as a newborn to Instagram. In the caption, Busy Philipps explained how Cricket got her name — and it's a super sweet story.
"Oh hi. 7/2/13 8:03am Baby Cricks. She had no name for almost a week. I called her the baby," Philipps wrote on Instagram. "Finally, cedars called me and said we HAD to name her or it would be a pain for us and so I picked Cricket, which was what Marc and Birdie had been pushing for. I had thought her name was going to be Ginger but then she was born and that seemed utterly ridiculous for her. I maintain she could have been a Dottie. But I'm still glad she's our Cricket. She's clearly Cricket. Duh."
Basically, the time crunch forced Philipps to make a quick decision, so she went with the top pick of her husband, screenwriter Marc Silverstein, and their older daughter. It also worked pretty adorably that both of her kids are named after animals.
Philipps also shared a throwback photo of herself snacking on some ice chips, just hours before giving birth. "Eating ice chips. About two hours away from meeting Cricket in this picture," she captioned the black-and-white shot.
She also Instagrammed a photo of Cricket rocking some pink goggles and eating popcorn in honor of the big day. "She goes so hard. Happy 5th birthday Cricket," Phillips wrote.
This was not the first time Philipps opened up about her daughter's unique name. In a 2014 interview with People, Philipps shared a few other parts of the story. "Oh my God, it was so hard because we had all these names and then she came out. I looked at her and she just couldn't be one of those names," Philipps told the magazine at the time. Silverstein came up with the name, and he made a pretty compelling case for it at the time. Philipps also told People:
A lot of times your name dictates the kind of personality you have and [Marc's] like, "Everyone likes Cricket, Cricket is just the greatest, happiest kid on the block, the coolest camp counselor, she's hot in college." ... He just had this whole narrative for what that name was.
After announcing Cricket's name back in 2013, Philipps got plenty of questions about the creative choice. And in response, she posted a funny tweet making it clear that she is not bothered by the haters:
And in 2014, Philipps further explained why she and Silverstein purposely gave their kids such interesting names. In an appearance on TODAY, she said:
Since I grew up with a nickname — Busy being short for Elizabeth — when my husband and I started to have our babies, we decided that if wanted to call our kids something, we would just name them that thing that we wanted to call them.
So, how is the Philipps-Silverstein family celebrating Cricket's fifth year on earth? Look no further than Philipps' Instagram story. Cricket kicked off the day by scootering around the house:
Philipps also shared a few videos of both of her daughters having a blast on a Slip 'N Slide:
And Cricket took a break to enjoy some lovingly-prepared yogurt and fruit, while watching Bubble Guppies.
Sounds like a pretty great birthday for a 5-year-old to me!