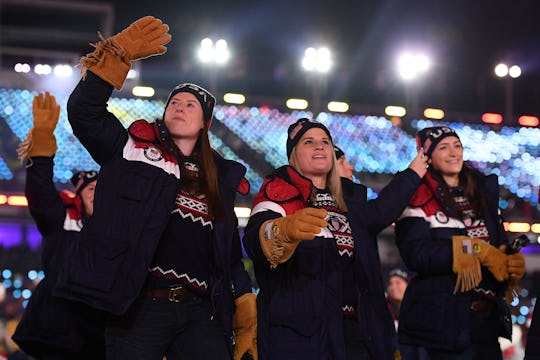 Quinn Rooney/Getty Images Sport/Getty Images
You Know You Want A Pair Of The Team USA Gloves For Yourself
On Friday, the 2018 Winter Olympics kicked off in PyeongChang, South Korea with the highly-anticipated Opening Ceremony. Although there was a lot to take notice of at the exciting event, many people were especially captivated by one element of Team USA's ensemble. So, can you buy Team USA's gloves? It turns out the look is causing a bit of controversy.
Since 2008, Team USA's gloves have been designed by fashion powerhouse Ralph Lauren, according to The Cut. This year, the Lauren design featured a lot of fringe, leather, and cowboy vibes. Oh, and they're absolutely ginormous.
David Lauren, chief innovation officer for Ralph Lauren, said in a statement about the 2018 designs:
Ralph Lauren is excited by the convergence of fashion and function, and we are committed to supporting Team USA athletes by outfitting them with the latest innovative technology. We're proud that we've worked so closely with the athletes, as well as the U.S. Olympic Committee, to keep evolving and improving. The uniform celebrates the American spirit, with iconic pieces updated with modern details and technical fabrications.
I'm not sure, however, that the gloves can be called functional given their massive size. Here's what I'm talking about:
They're a tad too big, right? I mean, I get that it's a quite cold in PyeongChang this time of year, but the Olympians still need functionality of their hands.
That being said, people are really into these gloves and many are wondering if the look is available for purchase. The short of it is: Yes and no.
Although the fancy mittens were available for purchase on Ralph Lauren's website, they've since sold out, according to TIME. The good news is a company called Astis, co-founded by an avid traveler named Brad Peterson, is selling similar gloves.
Here's where the controversy comes in, though.
It turns out a lot of people are comparing Astis' hand-crafted mitts to Lauren's design, while implying that the fashion icon largely copied the look. Romper reached out to Lauren's rep and Peterson and is awaiting a reply from both parties.
Check out one of Astis' designs to see the supposed resemblance:
What's compelling is Peterson claims "people" from Lauren's company contacted him in 2016 about "partnering and working together to accessorize the Olympian parade uniforms," according to The Denver Post. While Peterson was excited to work with Lauren, he was disappointed when the supposed talks abruptly ended without notice.
"We thought it was great, that's our dream and it would be the most amazing thing," Peterson told The Denver Post. "And then they went silent."
Although it remains to be seen if anything will come of this controversy (Lauren has yet to comment on the comparisons publicly), what's clear is this: The Astis gloves are available for purchase. Most of the gloves (there's a lot designs to choose from) will run you about $200 dollars, according to the company's website, but they seem to be worth the price tag.
The company boasts on its website that its "leather mittens and gloves are hand-stitched in our factory in the USA and made from the highest-quality and hardwearing suede leather." Additionally, the mitts are known for their "clean functional design with no drawstrings, buckles, or clips provides easy on/off capabilities." Sounds nice, right?
Astis drama aside, there was some additional controversy about the gloves. Apparently, many people couldn't help but notice that the look is reminiscent of Jim Carrey in Dumb and Dumber. Because of course.
Check out some of the hilarious tweets about the uncanny resemblance below:
So, yeah. It's safe to say there's a lot of chatter about these dang gloves. And if you still want to have your own pair of Team USA-inspired gloves after all of these controversies, you know where to go.
Check out Romper's new video series, Romper's Doula Diaries:
Watch full episodes of Romper's Doula Diaries on Facebook Watch.