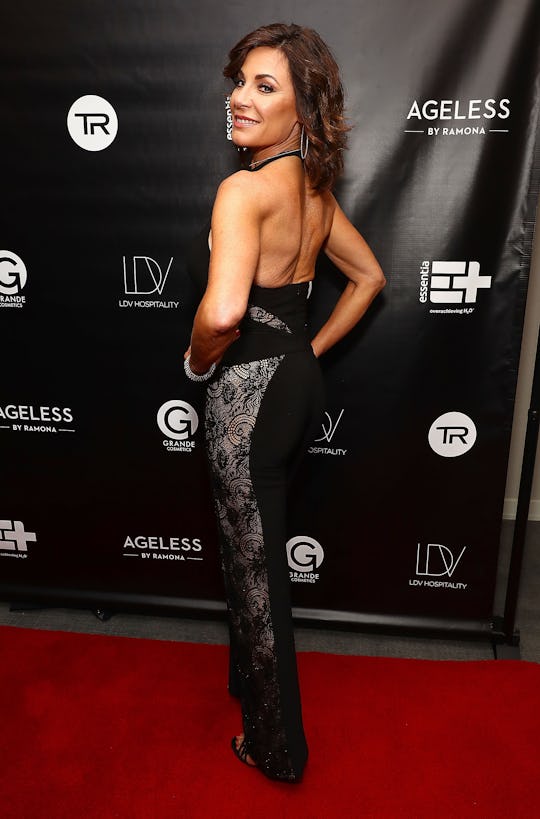 Astrid Stawiarz/Getty Images Entertainment/Getty Images
Life Is A Cabaret For Luann De Lesseps
The Real Housewives of New York have turned to cabaret a time or two before when they needed an outlet to express themselves (never forget Sonja Morgan's past attempts), and it makes sense that Luann de Lesseps would do the same following her divorce and arrest. After pop hits such as "Money Can't Buy You Class," where else can you go but to vaudeville's less extinct sister? But the more important question is: can you see Luann de Lesseps perform cabaret?
Indeed you can, in many different ways. Her preparation for the performance, as well as the show itself, will feature in the RHONY episode "Dating Wishes and Cabaret Dreams." But since the events of the show were filmed months ago, you can also catch countless clips on YouTube. And if even that isn't enough for you, then you may be able to see the Countess' act live and in person.
Back in May, Page Six reported that Luann wanted to take "The Countess and Friends" on a national tour, and there are already some dates in place. Her debut show was at Feinstein's 54 Below in February of this year, and according to the venue's website there will be a follow-up on September 10. The site also provides a nice summary of her act so you know exactly what to expect if you ever find yourself in the audience.
As described on the Feinstein's 54 Below site, Luann is "hip as a New York minute and classically chic," and it seems like her show tries to capture that vibe. The blurb went on to say:
[Luann's] glamorous life in the fast lane on several continents (together with a solid decade at the center of reality TV) provides fodder for hilarious stories, one-of-a-kind anecdotes, and, of course, some standards and pop songs in her inimitable style. She will be joined by an eclectic group of New York's most sought after nightlife stars, both legendary and ascendant. #CountessAndFriends promises a glorious return to the heyday of cosmopolitan evening entertainment.
It sounds like a performance that can't be missed, but just in case you can't wait until September, you're still in luck. Luann's website lists two other shows: one at the Paramount in Long Island on August 4, and another on August 24 in Atlantic City at the Music Box Theater in the Borgata Hotel Casino & Spa. There might be even more dates after that, so stay tuned.
According to Bravo's The Daily Dish, Luann's second performance boasted such guest stars as Rachel Dratch, Bridget Everett, and Laura Benanti. Together, Luann and Benanti belted iconic classics the "Thong Song" and "All the Single Ladies." But some of Luann's RHONY co-stars appeared as well: Ramona Singer, Dorinda Medley, and Carole Radziwill were in the audience, but Sonja Morgan utilized her cabaret skills to join Luann on stage. They performed a rousing rendition of "Money Can't Buy You Class," because it really wouldn't be a show of Luann's without it.
Since "and Friends" is a part of the show's title, subsequent performances are sure to be just as star-studded. They'll also feature Luann's new single "Make It Part of the Dance," which seems to reflect how much she's embracing her creative side lately. As she told The New York Times:
To know that the show was totally sold out and people are still trying to get tickets is a really great feeling. That I get to come back and have something creative to sink my teeth into has been really helpful for me, because it's been a rocky road, the past two years.
RHONY will give you all the highlights of Luann's show, but there's still tons of cabaret content to come.