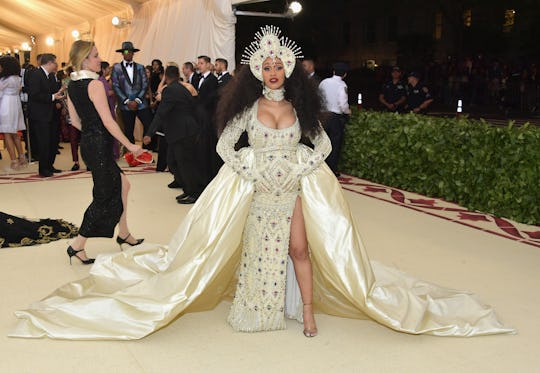 Neilson Barnard/Getty Images Entertainment/Getty Images
Cardi B Did It Her Way
Cardi B did it her way. Shortly after her debut album hit the stratosphere, and after weeks of speculation and bump-watching, the Bronx native appeared on SNL in a ruched white Christian Siriano dress that showed her no-denying-it baby bump. And on July 11, she announced the birth of daughter Kulture Kiari Cephus the day before with a naked maternity shoot by a blooming garden that could rival the work of Michaelangelo. We see a lot of naked maternity shoots, lots of naked women in art history, but, like Beyoncé's before her, Cardi B's over-the-top shoot subverted the idea of woman as muse — in her announcement, she is the artist and the subject. Make no mistake, Cardi B did this entirely her way.
That Cardi B's album is called Invasion Of Privacy is not lost on those who followed her pregnancy playbook. Cardi B's acknowledgment that she was pregnant on live TV was the stylistic opposite of Hollywood veteran Kate Hudson's elaborate balloon-pop gender-reveal on Instagram, at the same time. The reveals, or announcements — whatever you want to call them — felt very different, but they actually shared one important thing: they were not paid. There was no magazine cover involved or sponsor tagged in the post.
Cardi B's brand is built on authenticity.
Her rookie sense for how to work the media was on display throughout her pregnancy; even as she shared candid thoughts about how pregnancy felt (two days before she gave birth: "This last month of pregnancy is hell"), she sued her old manager. Cardi B's brand is built on authenticity, and it's a nod to her true-to-self mantra that this counter-lawsuit accuses her ex-manager of "deceitful and disloyal conduct," per Vulture. The message is don't mess with Cardi B.
Because when she does choose to reveal details about her private life, it's clearly on her own timeline. In June, she admitted, with something approaching annoyance, that she had married husband Offset of Migos in a ceremony back in September 2017. And nowhere was the triumph of her pregnancy more visible than at the Met Gala, where she stole the show.
Hollywood publicist Rob Shuter predicted in a conversation with The Cut in 2015 that in the near future, "instead of issuing these statements through a publicist... the Taylor Swifts and the Kylie Jenners will do everything on social media. I don't think they need to pick an outlet anymore. I don't think they need to find a media partner."
Cardi B previously denied her pregnancy in with the now-infamous "let me fat in peace" in a comment on an Instagram post. The reveal, then, as her career hit new highs, was something very different. She performed "Be Careful" on SNL with a notable edge. "Yeah, my heart is like a package with a fragile label on it. Be careful with me," she rapped.
In an oversharing world, it's clear that things are changing.
Elsewhere, a similar trend toward avoiding the traditional media rollout of a pregnancy was talking place. Rachel McAdams allowed news of her baby's arrival to filter out in April, having skipped a pregnancy announcement altogether. And of course Kylie Jenner kept her pregnancy under wraps for the entire nine months, continuing to post on social media — though sparingly — as if the rumor mill wasn't abuzz. When she finally broke her silence, she explained that her decision to keep the pregnancy private, with "no paid reveal," was based on her wellbeing and that of her baby. She wrote on Instagram:
"I'm sorry for keeping you in the dark through all the assumptions. I understand you're used to me bringing you along on all my journeys. my pregnancy was one I chose to do in front of the world. I knew for myself i needed to prepare for this role of a lifetime in the most positive, stress free, and healthy way i knew how. There was no gotcha moment, no big paid reveal i had planned. I knew my baby would feel every stress and every emotion so I chose to do it this way for my little life and our happiness,"
In an oversharing world, it's clear that things are changing, and celebrities and non-celebs alike are trending towards downplaying pregnancy, or simply keeping our most precious and sacred moments just that — intimate. And these celebrity announcements with little reveals show that they can give just-enough of a peek into motherhood without connecting it to a brand or showcasing too much of their intimate lives and intricate details.
It's a display of autonomy that is meaningful for everyday women.
There is something special about celebrities taking control of their announcements by not selling them to tabloids or brands and simply announcing their baby on board news by their own rules on their own time. Cardi B's pregnancy announcement felt surprising for the usually vocal and open former reality TV personality, given that she said so much without saying anything at all about her pregnancy. Her obviously pregnant physique did the talking for her. There was no promotion or teaser — simply a pregnant woman onstage in a form fitting dress that laid rumors to rest — essentially fatting in peace on stage. It's a display of autonomy that is meaningful for everyday women trying to gain control in a world that dismisses and discriminates against mothers.
Having a baby is life-changing and couples should be free to announce their new bundles of joy how they so choose. And given the market for real-life, non-celebrity moms to collaborate and work with brands based on their social media savviness, having the ability to create content that goes viral is a business skill. There's a market for parents and babies, and the virality of it all has untapped potential for brands. That means money. But even the most typically capitalistic, like Kylie Jenner — queen of the #sponsored post, aren't always capitalizing on motherhood.
Beyonce's first pregnancy announcement at MTV's VMAs in 2011 came long before the days when she'd post three times per event to Instagram. Though the announcement still broke the internet by Twitter standards and reactions, it was a simple belly-rub on stage that launched us into a frenzy, and then she protected the rest of her pregnancy, later revealing her difficult time dealing with miscarriage from a previous pregnancy.
Motherhood is a life-changing journey, and an often-challenging adjustment for us, the lay people of the world, but doubly so for the moms who are public figures and open to the scrutiny of critics and trolls. We've seen Cardi B open up elements of her personal life, only to hide them when commenters act ugly. Her motherhood journey is as unpredictable as her journey from loveable Love & Hip Hop standout to rap royalty. I'll be rooting from the cheap seats, however she chooses to do it.