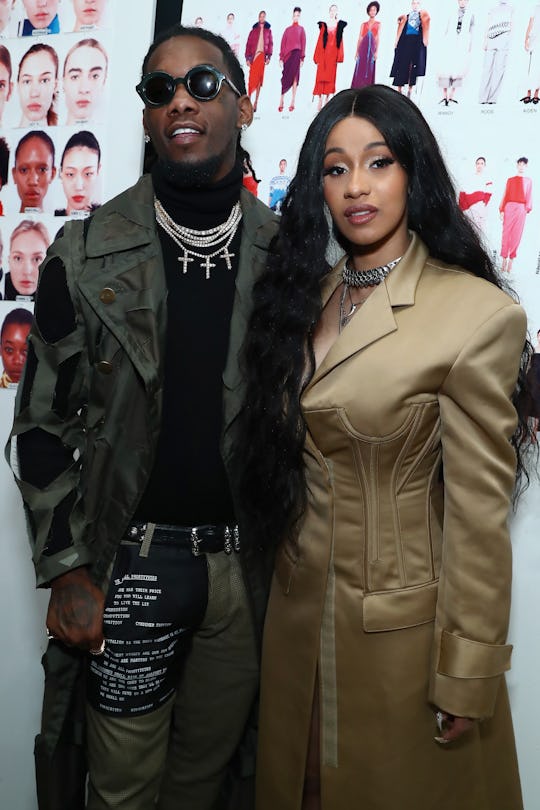 Astrid Stawiarz/Getty Images Entertainment/Getty Images
Cardi B & Offset Celebrated New Parenthood With Gifts That'll Make Your Wallet Scream
Becoming a parent is a huge deal; it's a milestone in someone's life that should be celebrated. So, of course, new parents Cardi B and her husband, Offset, went all out to mark this chapter in their lives. In fact, Cardi B and Offset bought themselves the most extravagant "his and her" gifts to celebrate the fact that they're now Mom and Dad to their baby girl.
Cardi B gave birth to her first child — a daughter named Kulture Kiari Cephus — a few weeks ago on July 11, according to Billboard. And in the days since her daughter's arrival, it has been very clear that Cardi B enjoys being a mother and has so much love to give to her baby girl. But, at the same time, she's also had to make a few sacrifices since giving birth.
For example, this past week, she announced that she could no longer go on tour with Bruno Mars this fall, according to CNN, because she had to take care of her baby and she wasn't physically ready to return to work. "I thought that after giving birth to my daughter that six weeks would be enough time to recover both mentally and physically," Cardi B wrote on Twitter. "I also thought that I would be able to bring her with me on tour but I think I underestimated this whole mommy thing."
Because of this dedication and devotion to her daughter, Cardi B and Offset have treated themselves a little bit. In Cardi B's newest Instagram post, she showed off two brand new "his and hers" Lamborghini Aventadors, according to E! News, posing against her blue car while Offset sat on top his green one. "Blessed and gifted," Cardi B captioned the photo. "Official Lamb owners."
Wondering what the cost of a brand new Lamborghini Aventador is? Around $400,000, according to Car And Driver.
Although some new parents might reward themselves with a much desired glass of wine or a relaxing back massage, is anyone really surprised the one and only Cardi B rewarded herself with a brand new Lamborghini? Different strokes for different folks, right?
But the sweetest part of this treat-yo-self revelation is one simple hashtag: #kulturesparents."
Now don't start worrying about where Kulture's car seat would fit in her mom's new car; Cardi B assured her followers in the photo's comments that she also has a more baby-friendly car. "We got trucks to drive the baby in," Cardi B replied to a fan with such a concern.
It's great that Cardi B has finally had some time to "play" especially since she has been honest with fans about how hard these past three weeks have been for her. On Thursday, during an Instagram Live broadcast, Cardi B got real with fans about the hardships of being a mom, according to People, saying:
I met my match. She is very demanding. I can't believe I have a boss. I really have a boss. When my baby wanna eat, she wanna eat. It's not like "Oh, give me three minutes." No. "Gimme the milk now!" You gotta burp her right away — everything, everything, everything. She wants everything.
Cardi B also revealed during the same Instagram Live that she doesn't want to have a nanny for her daughter because she wants to be with her baby at every second, according to People.
But whenever Cardi B wants to reward herself for her hard work and have a little fun, she has her new bright blue Lamborghini to help with that.