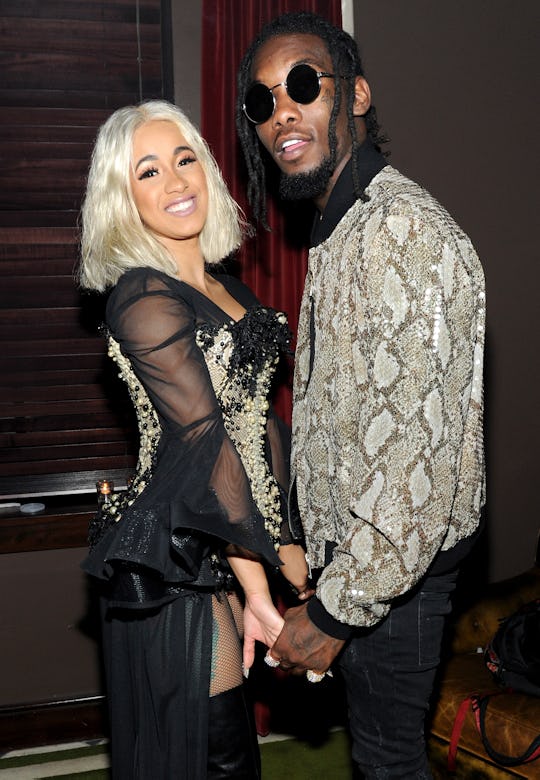 Craig Barritt/Getty Images Entertainment/Getty Images
Cardi B Showed Off Kulture's Fabulous Crib, So Get Ready To Be Overwhelmed With Envy
It's safe to say that Cardi B seems to be really enjoying new motherhood. Since giving birth to her daughter, Kulture, with husband, Offset, the rapper has been pretty open about waiting to share certain things about this exciting chapter of her life. Like on Wednesday, when Cardi B showed off baby Kulture's crib that is probably one of the most stunning pieces of furniture that you will ever see.
In a new Instagram post, Cardi B showed off Kulture's amazing crib to her followers, and thanked her friend, the musician, Premadonna, for gifting her such a sweet gift. But, it's obvious that the crib isn't your average crib — it's a mega-crib. The oval shaped crib is a beautiful and ornate piece of furniture, complete with columns, gold detailing, and a crown sitting on top of the crib, which is definitely a crib fit for a queen — or a queen in the making, if you will. "It's a beautiful crib, so big," Cardi B perfectly stated in the video, before she revealed that Offset had set it up while she was in the hospital with Kulture.
Not only does Kulture have this beautiful crib to sleep in, but Cardi B also revealed in the video that she was additionally gifted a beautiful matching bassinet to go with it, complete with tulle fabric and gems all along the edges. Thanks to her crib and bassinet, Kulture is definitely going to be sleeping in style. Some serious style.
As you might expect, this isn't your average crib that you can buy in stores. Premadonna revealed in the comments of the Instagram post that the crib was designed by custom furniture designer, Kapesh Designs, who brought Premadonna and Offset's vision to life. And for one very lucky baby, Kapesh Designs revealed on Instagram that they have a second, identical white crib in stock and available to order, although the price of it is unclear. Romper's request for comment from Kapesh Designs on the price of the crib or how people could purchase one for their own nursery was not immediately returned.
But Cardi B wasn't the only person who thought this crib was stunning. People took to Twitter immediately after Cardi B shared the video on Instagram to express their envy for Kulture's crib. And for a lot of people, it's hard to imagine sleeping on something that nice.
And people in Cardi B's Instagram comments were just as envious. "That's better than my bed," one fan perfectly stated. "OMG!," another added. "Crib goals." Crib goals indeed.
Kulture's crib is just another very special part of the little girl's life and highlights just how loved she is — and that baby is so loved, especially by her mom. In a video, posted to her Instagram account on Tuesday night, Cardi B shared how grateful she is, not only to be a mom but to be alive with her fans, according to People. "I'm a very blessed person," Cardi B said, according to People.
But even with all of her blessings, in the same video, Cardi B revealed that she has been spending every single second with her daughter since she gave birth to her on July 10, according to E! News. "I just want to learn to be a mom," Cardi B said, according to People. "I want to enjoy every single second of it since I'm going back to work."
Even though Cardi B shared her daughter's crib with the world, don't expect to see any photos of Kulture any time soon. Cardi B and Offset are reportedly waiting to share photos of their daughter for the sake of her privacy, according to TMZ.
But I think it's safe to say that baby Kulture will is living the life of luxury in her gorgeous bassinet and crib.