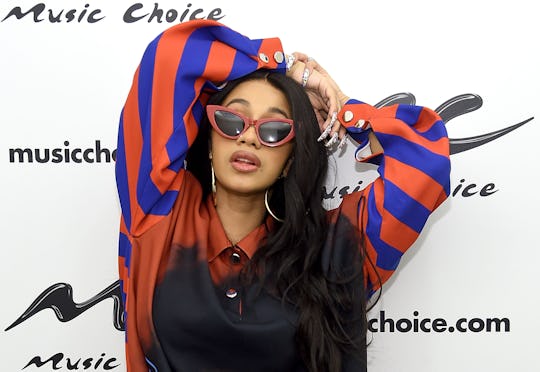 Jamie McCarthy/Getty Images Entertainment/Getty Images
Cardi B's Instagram Of Baby Kulture's Poopy Blanket Is Really Just A Preview Of What's To Come
As Cardi B rose to fame in the music world, one thing remained the same, despite her sudden success and wealth: Her bluntly honest personality. It seems no matter how many hit singles the rapper pumps out, she's still just her sassy, honest self. This is something her loyal fans have undoubtedly appreciated over the past several years. Of course, now that Cardi B is a mom, nothing has changed — because she continues to keep it real, despite the often trying aspects of parenthood. Need an example? On Monday, Cardi B shared an Instagram of her baby's poopy blanket and it's just a preview of what's to come for the new mom.
On Monday, the new mom shared a fairly common dilemma when it comes to caring for newborns: what appears to be a diaper blowout. Cardi B took to her Instagram Story to share a short clip of what looks like a poopy baby blanket. With dramatic music playing, the few-second clip zooms in on the soiled linen. The rapper also included some fitting emojis, including some super-bummed out faces and a woman covering her face with her hand.
Of course, not all of Cardi B's baby-related social media posts have been as light-hearted (and kinda gross) as this one — because being a parent can be incredibly difficult at times.
Most recently, Cardi B revealed that she had decided to pull out of the Bruno Mars tour because of her motherhood duties, The Washington Post reported. "As of today I've decided I won't be joining Bruno on tour this Fall," she shared on Twitter and Instagram on July 26. "I thought that after giving birth to my daughter that 6 weeks would be enough time for me to recover mentally and physically. I also thought that I'd be able to bring her with me on tour, but I think I underestimated this whole mommy thing."
As Us Weekly reported, Cardi B and her husband Offset welcomed their first child together on July 10 — a baby girl named Kulture Kiari. Although fans have yet to see a photo of Cardi B's little one, the new mom has posted a steady stream of baby updates since her birth. Many of them have involved sleeping with a newborn in the house — or a lack thereof. "Have a baby by me baby, be a millionaire ... 5:32am my baby a super night owl," the singer captioned a recent Instagram post.
On Twitter, she recently lamented, "My baby don't sleep night or day."
And just three days after baby Kulture was born, Cardi B tweeted, "When parents say 'if you wake the baby up YOU PUTTING HER BACK TO SLEEP!' I feel that." (I think most parents feel that, for the record. Don't worry, Cardi, one day she will sleep... eventually.)
And then there were those times when Cardi B attempted to express how incredible motherhood is — and how much she already loves her baby girl. Which, let's be honest, there are no words. "Really hard to explain," she tweeted. "Its [sic] beautiful how fast mother instinct kicks in ...never wanna leave my baby side."
In another tweet, the new mom wrote, "I never felt this feeling before I'm In love and my heart feels like it's melting."
As Entertainment Tonight reported, Cardi B already has a special name for her daughter when she's in a mood: Her middle name — which also happens to be Offset's first name. "Kulture is not Kulture today she Kiari with the mood," Cardi B tweeted. "But o maaann i love my sweet sweet baby. She melts me like butter."
Honestly, I'm here for any and all updates Cardi B has concerning baby Kulture — the good, the bad, the disgusting. Hit me with it. After all, as a mom of three, it's probably nothing I haven't seen before. And as sh*tty as it is dealing with diaper blowouts, I hate to break it to the new mom, but this is only the beginning.
Because when it comes to parenthood, dealing with poop in its various forms is a huge part of the equation for quite some time. Good luck, mama.