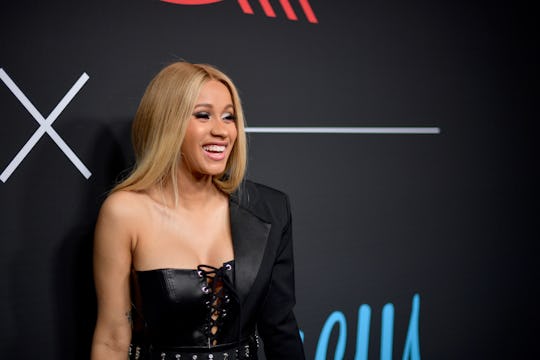 Matt Winkelmeyer/Getty Images Entertainment/Getty Images
Cardi B's Latest Update About Baby Kulture Will Resonate With Every Tired Parent
No matter how many parenting books and blogs expectant parents may read, nothing quite compares them for the reality of life with a newborn until it actually happens. Suddenly, this tiny human depends on you for their every need, and pretty much everything about your daily routine changes in a blink of an eye. What's particularly difficult to cope with at first is when your newborn has her days and nights mixed up. She might sleep peacefully all day long for you, but by the time the sun goes down, she's ready to party all night long. That's probably why Cardi B's update about life with a newborn is so refreshingly honest and totally hilarious at the same time.
For those who might have missed the big news (because they're in the trenches of surviving their own child-induced sleep deprivation), Cardi B and her husband, Offset, welcomed their first child together on July 10 — a baby girl they named Kulture Kiari, as Us Weekly reported. With a little over a week of motherhood under her belt at this point, Cardi B took to social media to share with her millions of followers a hard truth about life with a newborn.
On Thursday, the new mom posted a stunning photo of herself, along with the caption, "Have a baby by me baby, be a millionaire ... 5:32am my baby a super night owl."
Aside from a plethora of comments pointing out Cardi B is giving off some serious Elsa vibes in the photo, plenty of followers reassured the new mom that this type of newborn behavior — while certainly undesirable — is totally normal, according to BabyCenter. And typically, newborns start to adjust to their family's sleep schedule after about a month. (Whew!) "They all are at 1st..she'll get better," one person wrote.
Another follower commented, "Welcome to motherhood."
Yet another person chimed in with, "It gets better! Hang in there."
Other followers gave the new mama some advice during this difficult transition period. "In the womb baby can't tell if it's day time or night time," one follower wrote. "You have to train her. It's rough but you'll get it! Have all lights on and blinds/shades/curtains open during the day and when it's night time make it super dark."
Another follower commented, "I know the feeling and still going through it, breastfeeding can make you sleep longer, good luck girl. Sleep when she sleeps."
Cardi B also shared her plight via her Instagram Story. "Finally shorty K.O.......i think," she wrote, along with the current time of 5:39 a.m.
According to WhatToExpect.com, there are some strategies for helping your little one sleep less during the day and more at night. You know, so mom and dad can manage to get some shut-eye, too. Here are some simple ways to help reverse your baby's mixed-up sleep schedule, according to WhatToExpect.com:
Limit daytime naps to three-hour stretches, so your baby doesn't get used to getting huge chunks of sleep when the sun's up.
With that said, it's important not to cut out naps altogether because your baby requires a lot of sleep during a 24-hour period. It may sound cliché, but "sleeping when the baby sleeps" can help new parents survive those long nights.
Keep it light and bright during the day and as dark as possible in the evenings/at nighttime. Even during daytime naps, keeping blinds open and making sure not to be totally silent can help your baby discern night from day.
Although Cardi B has yet to share a photo of baby Kulture, I'm sure fans have appreciated the singer's mom updates since her daughter's arrival. And just like anything else, the "Bodak Yellow" singer isn't sugar-coating anything. As a been-there-done-that mom of three (and another on the way), I can attest to the fact that those first few weeks can be a huge struggle when it comes to sleep. Let's hope that Offset is braving these long nights alongside his wife — or at least taking nighttime baby care in shifts — so that Cardi B can at least get some sleep at night. I feel for you, mama!