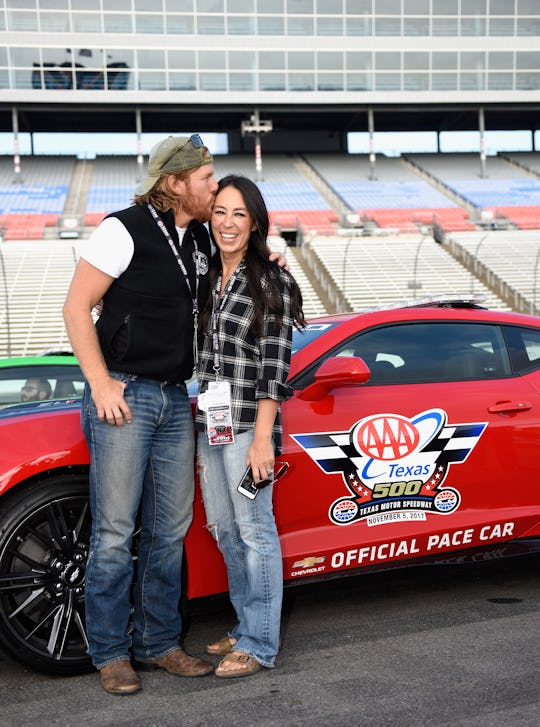 Jared C. Tilton/Getty Images Sport/Getty Images
Chip & Joanna Gaines Forgave The Writer Who Slammed Their Parenting In The Classiest Way
If there's one celebrity couple I always turn to when I want my faith in humanity restored, it's Chip and Joanna Gaines. Sure, the HGTV stars aren't perfect — no one is — but they seem to live their lives with a simplicity and integrity that is enviable, and they've proven that yet again. In an inspiring turn, Chip and Joanna Gaines forgave a writer who once slammed their parenting, and they did so with the grace, class, and style the Fixer Upper couple is known for.
In late April, Daryl Austin wrote an op-ed for USA Today criticizing the Gaines' for promoting a family-first image. He later apologized for the piece and in June he reached out to the couple to ask them to forgive him, which they did in true Texan style, according to People. Besides offering their forgiveness, the Gaineses reportedly asked Austin and his family to come to one of their two vacation rental homes for a stay, according to People. The writer told the publication that he had to turn them down because he "wouldn't be comfortable with them paying for it."
When Austin wrote the piece in the spring, he lauded the Fixer Upper stars for their "commitments to their faith, marriage, family and community." But he criticized the continual way they presented themselves as putting family ahead of everything else.
"It isn't so," he wrote in USA Today at the time, and deconstructed where he thought the Gaines family spends their time. His contention was that there was no way for the couple to run a large real estate company, manage their weekend rentals, write books, and oversee their Magnolia Market retail store, a bakery, product lines, and their hit TV show, all while putting their kids above all else. "They want to be seen as a couple that can do it all while at the same time making their family their top priority. This is just not possible," Austin wrote in his USA Today op-ed.
Not long after, Chip responded and it was clear that he wasn't about to let the critique stand.
I love that he called it a "circus." It just seems like a very real perspective on a very surreal time in this family's life. Two days later this notable tweet followed:
Fans rallied to support the Gaines through their own tweets:
But in the following weeks, Austin seemingly had a very personal, come-to-Jesus moment of his own while vacationing with his family in Mexico, according to Fox News. He wrote about the experience in a second op-ed, this time for Fox News. Austin explained that while he truly had believed what he wrote about the Gaineses at the time he wrote it, his perspective had changed because of the overwhelming poverty he witnessed in Mexico. According to Fox News, he wrote:
As we saw a group of young children digging through piles of trash, my 7-year old looked up at me with tears in her eyes and asked: "Where are their moms and dads?" Suddenly the parenting choices of two well-meaning American parents paled in comparison. Especially because as bad as it seemed to be for some of the children I witnessed in Mexico, I knew in that moment that many children all over the world were suffering even more. I smiled as I realized how lucky any of those kids without parents would feel to have a mother and father like Chip and Joanna Gaines.
There are many ways this whole situation could have flamed up and burned everyone involved, but it seems that the Chip and Joanna's gentle response gained them one more tried and true fan. Austin told People, "I already respected them a lot, despite some concerns I addressed in that article, but now I respect them even more. It takes a lot of humility to 'turn the other cheek' the way they did towards me."
That may be the truth, but the only cheeks Chip and Joanna are probably interested in turning right now are into their pillows. They just welcomed their fifth child, a boy named Crew, according to People, and are settling into their new life now that Fixer Upper has ended its run. It was already clear that there's lots of love in this family and they continue to share it with the rest of the world when they can.