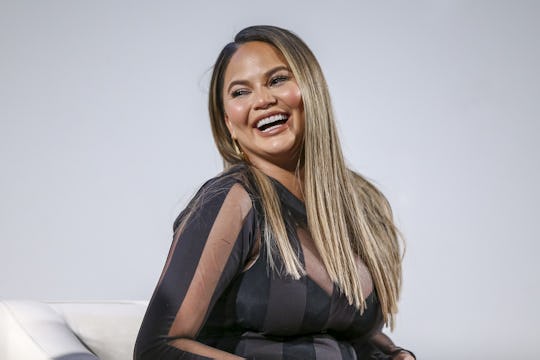 Rich Polk/Getty Images Entertainment/Getty Images
Chrissy Teigen Plays "What's This Bug?" & The Answer Isn't Pretty
There's a lot that I can handle: Explosive diapers, backed-up toilets, tattoo needles, high-intensity arguments, the sight of blood. But I draw the line at bugs, even cute-as-hell bumble bees. I hear a bee buzz, and I'm running far in the other direction. (My Girl scarred me, OK?) So I kind of admire people who can handle insects with no problem. That said, you really do need to be careful when you don't know the species. Case-in-point: Chrissy Teigen played with a bug that turned out to be anything but harmless.
Teigen posted a video to Twitter early Thursday morning showing her and her 2-year-old daughter, Luna, playing with some type of winged insect the day before, according to Huffington Post. The Lip Sync Battle host thought the bug was harmless, but maybe deep down she had a feeling she was wrong because the text card on her Twitter video read: "I swear to God, if one of you tells me this is a deadly bug, I will vomit."
Well, I hope she had a bucket nearby.
Thanks to the good people of Twitter, Teigen learned that the insect she was handling may have been a tarantula hawk. A tarantula hawk.
What is a tarantula hawk, you ask? It's a species of spider-wasp that's two inches long and has an extremely painful sting that's rated four on the Schmidt sting pain index, according to BBC. That's the highest possible rating a bug can receive on the sting scale, which was developed by Arizona-based entomologist Dr. Justin Schmidt, BBC reported. The only other insect that received a similar rating is the bullet ant.
So how did Schmidt describe the tarantula hawk's sting? Hold on to your trousers: The researcher told BBC that the experience is "pure, intense, brilliant pain."
He added:
Like walking over flaming charcoal with a three inch nail embedded in your heel.
Nope. Just so much nope.
But, as they say, ignorance is bliss. In the Twitter clip, you see that the tarantula hawk is resting on Teigen's arm, and seems pretty docile. The best-selling cookbook author then asked her daughter, "What is this, Luna?," according to US Weekly. Luna replied, "A bug!"
Teigen continued, US Weekly reported:
Is he a nice bug? Do you want to give him a kiss?
Luckily, Luna did not kiss the insect — at least not that could be seen in the 15 second Twitter clip.
Teigen, who gave birth to her second child, a baby boy, with husband John Legend two months ago, thought she may have "gently played" with a hornet, according to one of her follow-up tweets. But the 32-year-old model soon realized her mistake once the Twitter replies started rolling in after her initial post.
The mom of two even shared screenshots of some of the response in a new tweet. She also expressed her disbelief, tweeting: "Oh my God but he was so nice." Aren't they all? Aren't they all.
It might be just me, but I actually find this whole situation makes Teigen all the more endearing. She looked at this bug on her arm, and didn't run screaming for the hills, which would have been my immediate response. Instead, she did the exact opposite: Teigen befriended the winged insect, although she had no idea what type of species she was dealing with.
I even admire Luna's completely nonchalant attitude, which I, in turn, register as bravery (because I hate bugs and anyone willing to interact with them who isn't entomologist is automatically brave in my book).
But there's a lesson in this, and that is: If an insect looks like it can be dangerous, it's better to be safe than sorry.