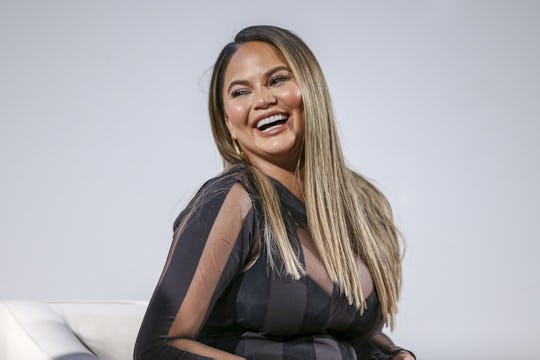 Rich Polk/Getty Images Entertainment/Getty Images
Chrissy Teigen Casually Breastfeeds Baby Miles In The Nude, Because Why Not?
It's been a while since I've breastfed. But I remember those hot summer days when my then-infant son would lay on my belly and nurse as I enjoyed the breeze from my air conditioner. I was probably wearing nothing more than a pair of underwear, though, because it was still July in New York and sometimes pumping the AC wasn't enough. That's why I am loving this gorgeous photo of Chrissy Teigen breastfeeding Baby Miles in the nude.
Right now, Teigen is vacationing in Bali, Indonesia with her husband, singer John Legend, and their two children, 2-year-old Luna Simone and 10-month-old Miles Theodore, according to People. And since Thursday, the Lip Sync Battle host has been documenting the family trip on social media, sharing envy-inducing photos and videos to her Twitter and Instagram accounts.
On Friday morning, Teigen decided to share to her Instagram Story a shot of her nursing Baby Miles as he laid across her bare stomach, propped up with what looks like either rolled-up towel or robe. And since it's Bali in the summer, the 32-year-old model, who happens to be reading as Miles goes about his business, is completely in the buff. Because, honestly, why not?
This is the second photo this month that Teigen shared to social media where Baby Miles can be seen breastfeeding.
Just three weeks ago, the best-selling cookbook author posted to her Instagram account a photo of her nursing her "twins." Obviously, Teigen and Legend don't actually have twins, but don't tell that to Luna. The adorable toddler gave her mom her baby doll to feed as her little brothers, Miles, nursed from Teigen's other breast.
The mom of two captioned the Instagram post, according to OK Magazine:
Luna making me feed her babydoll so I guess I have twins now.
Of course, breastfeeding shamers couldn't leave Teigen alone. Even though the Instagram photo was amusing — and even relatable for parents of multiple kids — people for some reason felt the need to criticize the model for showing her breasts on social media, according to Scary Mommy. Because bare boobs on Instagram are really the biggest concern in the world.
Still, although shaming moms for breastfeeding is annoying, it's surely not surprising. There are countless stories of parents being kicked out of restaurants or other public places for the simple act of feeding their children. All because society has sexualized breasts so much so that their primary purpose — providing nourishment to offspring — has been obscured.
Teigen didn't let the criticism go unanswered, though. After the backlash earlier this month, the Cravings cookbook author posted in her Instagram story a close-up image of Miles latching on to her nipple. She also responded directly to her critics on Twitter, writing to one user on July 7:
I don't care to see grainy fireworks, coachella selfies or infinity pool pics but i let people live. calm your tits and scroll on by.
A few hours later, she told another Twitter user:
Nah. Just chillin. Posting daily life like I do with anything else. Cooking, playing with dogs, etc. You make feeding a baby big deal because you got weird titty issues.
In other words, Teigen is not here for anybody making breastfeeding seem like this vulgar and inappropriate act when, in fact, it's normal, healthy, beneficial and now legal to do in public in all 50 states, according to People. If you don't want to see the model and mom nursing her child, then you'll just have to scroll on by, like she said, or, better yet, just hit that unfollow button under her name.