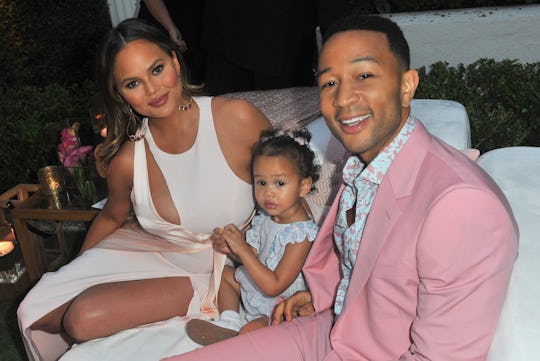 Jerod Harris/Getty Images Entertainment/Getty Images
Chrissy Teigen Just Captured The Oh So Relatable Struggle Of Getting A Perfect Family Photo
Chrissy Teigen is the queen of being almost shockingly down-to-earth and #relatable, whether she's talking about her relationship, being pregnant, becoming a mom, or just the trials and tribulations of day-to-day life. There's no doubt that Teigen is one of the funniest women in Hollywood (and more specifically, on social media) so it's not surprising that her jokes have only gotten better as she adjusts to life with two little kids. Most recently, Chrissy Teigen's Instagram with Miles and Luna captured the struggle of getting that perfect family photo, and every mom trying to land a pic for the 'gram will totally understand.
On Monday, Teigen posted a photo of herself with her two children standing on a beach boardwalk. Of course, upon first glance, it's abundantly apparent that Teigen is glowing, and her kids look calm and adorable. But the new mom of two isn't one to pretend that she landed that post easily. "Should I post the one where his head looks unsupported but my face looks good and Luna is over it, the one where his head is supported but my face is just okay and Luna is over it, or him crying and my face looks okay and Luna is over it?" she mused in the caption.
Fans and followers immediately started replying to the picture, affirming that Teigen made the right choice, and sharing some funny anecdotes of their own. "They all are great and part of being a mom," one follower replied in the comments. "It's not easy getting a shot of everyone looking good... my motto is 'someone must be sacrificed,'" they joked.
Another even mentioned that Teigen shouldn't worry about nailing the perfect photo, and that judgmental people will have comments to make regardless. "There's always those judgy moms who will say 'you're not holding their head right,'" they wrote. "Happened to me! People always have something to say... and it's always the ones who have no room to talk."
Back in May, Us Weekly reported that Teigen had given birth to her second child, a son named Miles. "Somebody's herrrrrrre!" she posted on Twitter with a string of smile and bottle emojis. Teigen had been transparent about the fact that she had a marathon pregnancy, since conceived via IVF and once joked that she felt like she was pregnant for "three years," according to People.
As for where the name came from, Teigen's husband, John Legend, told E! News:
Miles of course is the same name as the great Miles Davis and Chrissy really liked the name Theodore, so we put it all together and had Miles Theodore Stephens. When he came out and we hung out with him for a little while, we were like, "He looks like a Miles."
For the record, he totally does.
However, Teigen's newest family photo debacle was far from the first time she's joked about the less beautiful aspects of new parenthood. Right after she delivered Miles, Allure reported that she posted a photo of herself in a pair of mesh underwear she was sent home from the hospital wearing. She then tweeted: "I can confirm postpartum life is 90% better when you don't rip to your butthole. Baby boy: 1 point. Luna: 0."
On a more serious (albeit still transparent) note, still Teigen wrote in a piece for Glamour about her struggle with postpartum depression. She described what it was like to return to work after she had Luna, and how much she struggled to adjust to life after baby:
But I was different than before. Getting out of bed to get to set on time was painful. My lower back throbbed; my ­shoulders—even my wrists—hurt. I didn't have an appetite. I would go two days without a bite of food, and you know how big of a deal food is for me. One thing that really got me was just how short I was with people.
It is refreshing, to say the least, to see someone with such a significant platform be so willing to share the honest high and lows, peaks and valleys, joys, jokes, and sometimes tears of new parenthood. Whether it's laughing about landing that perfect family photo or the realities of mental health after delivery, Teigen is here for all of it, and she's taking us along for the ride, too.