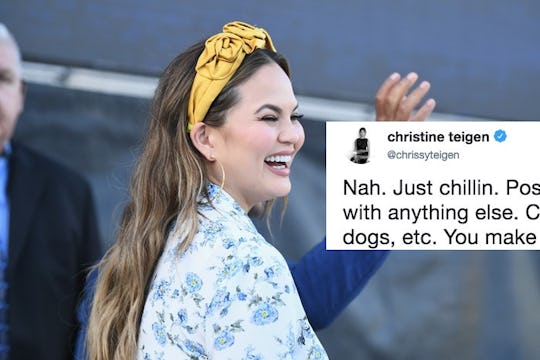 Emma McIntyre/Getty Images Entertainment/Getty Images
As Always, Chrissy Teigen Had The *Best* Response To Haters Shaming Her New Breastfeeding Photo
Chrissy Teigen always stands up for herself, even though she really shouldn't have to. Over the weekend, she posted a photo of herself breastfeeding her son, Miles, and one of Luna's baby dolls. It was a funny, relatable post — totally on brand for Teigen. But some people were not amused that she was baring her breast on Instagram, which is why Chrissy Teigen's response to breastfeeding shamers on Twitter and then in another Instagram Story is so on point.
If people were irked at the image of a woman feeding her son (and making sure her daughter didn't feel left out), they'll likely also be irked at the super close up shot of Miles latching onto her in her Instagram Story posted on Sunday afternoon. She didn't caption the photo or anything, so it might not be a clap-back, but knowing how Teigen operates on social media, it definitely could be. In any case, I'm always here for it.
Before that, she defended herself elsewhere too. When someone asked in the comments if anything was "private" anymore, Teigen quickly responded to the user, joking that only her account was. (When someone trolls someone on Instagram and their account is private, it's usually interpreted as a sign of being able to dish it, but not take it.) On Twitter, she also fielded the haters who "didn't want to see that."
Teigen Always Puts People In Their Place
And Then She Posted This To Her Story
If you don't want to see Teigen breastfeed, you're just going to have to unfollow her. Teigen isn't shy about her boobs, nor should she be. In June, Glamour reported that she posted an Instagram Story with her cleavage bared and said, "Please look at my veins going to my milky boobs. What is this?" "Veiny boobs" are reportedly common in new moms; according to VeryWell, "It's normal for breastfeeding women to have obvious veins on their breasts, especially when the breasts are overfull. However, if the veins are only protruding on one side, it can indicate certain types of breast tumors." So, if you just had a baby and notice them, too, you're not alone.
Teigen's also been open about her experience with breastfeeding, which has been tough at times. She told People in 2016, "I just think it's so funny. Sometimes I'm Googling how to do it better. I'm like, 'Is it working? Is it taking? I don't think I'm feeling enough pain!' You just get so confused about how it's supposed to feel, and as hard as anyone said it was, I feel like it somehow managed to be harder."
But it's been worth it to her, veiny boobs and internet trolls included. She added in the same People interview that breastfeeding was "very fulling" and that it made her feel like she was "doing something good." This interview took place when Luna was just 3 months old, way before Teigen was diagnosed with postpartum depression, so that good feeling was definitely necessary.
That's the thing about Teigen: We all know so much about her simply because she is so frank and hilarious about her experience. If you're a new mom scrolling through the 'Gram (or just a fan), it can definitely feel nice to see a celeb like her doing exactly the same thing you're doing and going through the same things — like dealing with breastfeeding jealousy from your eldest, amusing them by fake feeding a plastic doll, and sharing the intimate moments that make you feel good about what you're doing. As one commenter wrote on the picture of Teigen feeding her "twins," "The more pictures like this, the less narrow minded people moan about it... It will become normal."
Teigen might not wake up every morning determined to change how people think or challenge their own biases, but she definitely ends up doing that anyway. Please never stop doing you, Chrissy.