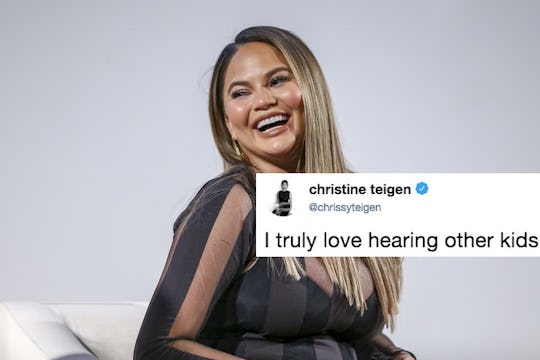 Rich Polk/Getty Images Entertainment/Getty Images
Chrissy Teigen Is Thinking Exactly What You Are When Other Kids Cry In Public
When a person becomes a parent, their perspective on so many things has a way of shifting. Instead of getting irritated by loud/rambunctious kids while out and about, other parents are more likely to empathize. (While at the same time thinking, "Glad that isn't me right now.") Instead of being annoyed by a Facebook friend's endless photo updates of her brand new baby, other parents might think, "Ah, I remember how in awe I was over my first child," and keep on scrolling. In my experience at least, having my own children has heightened my humility, as well as my empathy for other parents and children having a rough time. Because hey, we've all been there before. Celebrities, of course, are no exception to this phenomenon. Like, Chrissy Teigen, who tweeted about hearing other kids cry in public while on traveling with her own brood.
On Sunday evening, the model/cookbook author and mom of two took to Twitter to share what sounds like an all-around tough experience. Apparently, she had embarked on a long airplane trip with her 2-year-old daughter, Luna, and her newborn son, Miles, according to HuffPost. (It isn't clear whether her husband, John Legend, was along for the ride. Let's hope so!)
"Have survived first 15 hour flight with 2 year old and newborn. One more leg to go," Teigen updated her followers on Twitter. Yeah, that definitely doesn't sound like my idea of a good time. And let's just say Twitter was super impressed that she was even attempting such a daunting feat.
"You are ninja level brave," one follower commented.
Another Twitter user wrote, "I'm exhausted just thinking about your flight."
Yet another follower commented, "May your mommy super power be with you."
Just one minute after her initial tweet, the undoubtedly frazzled mama added, "I truly love hearing other kids cry now because it means it's not my own. That's a better feeling than silence, honestly." LOL. That's an interesting way of putting it, but I can definitely relate.
And guys, Teigen's followers felt this so hard. "I love when I see someone else's kid being a complete monster while mine behaves, like, look who the good mother is now! No matter how short lived it is," one Twitter user wrote.
Another follower commented, "Was out for a meal this weekend and some other kids were crying, I was like 'not my kids,'" along with a GIF of Kip from Napoleon Dynamite pumping his fist and saying, "Yes!"
Yet another Twitter user wrote, "I high five my husband every time we're in public and a crying kid isn't one of ours. It's a good feeling."
As hellish as Teigen's most recent flight with a newborn and a toddler sounds, nothing quite compares to her flight from hell back in December — during which the plane had to turn around mid-trip because a passenger had boarded the wrong flight, as BuzzFeed News reported.
"A flying first for me: 4 hours into an 11 hour flight and we are turning around because we have a passenger who isn't supposed to be on this plane," Teigen tweeted at the time. "Why...why do we all gotta go back, I do not know." OMG, can you imagine? All I have to say is at least a then-pregnant Teigen and Legend didn't have Luna with them at the time. Because I'm sure occupying a 2-year-old on that LAX-LAX-Tokyo flight would have made it even more unbearable.
That's the thing, though — traveling by air can be so unpredictable. And newsflash: Babies and young children cry. It happens, and sometimes no amount of shushing, rocking, or comforting from mom and dad will help.
While I, personally, prefer silence to any kid crying in public, I completely understand where Chrissy Teigen is coming from. It can be super stressful to have all eyes on you — all because your little one is having a rough time — while in such a cramped space. Those glaring eyes. The disgruntled comments "under their breath." The looks that could kill. So yeah. If I had the choice, I'd much rather someone else's kid take the spotlight on that one. Because as much empathy as I'd still have for that child's poor parents, at least I could think to myself, "Whew! Dodged that one."