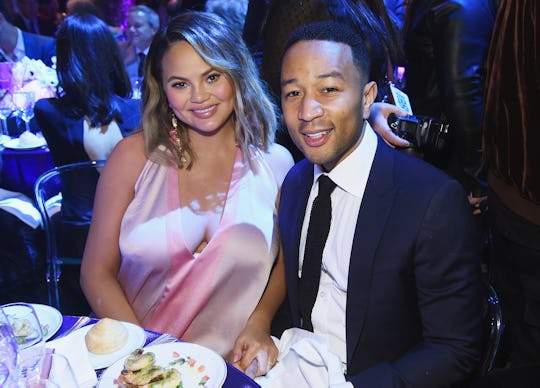 Jamie McCarthy/Getty Images Entertainment/Getty Images
Chrissy Teigen's 2-Month-Old Son Miles Is A Mini John Legend In This Adorable New Video
When it comes to celebrity babies, there's nothing not to love: there are literally tiny versions of our favorite celebs walking around, and TBH, getting to watch them grow up and hit new milestones and become their own people is nothing short of an adorable, hilarious privilege. Speaking of the latter, the king and queen of being relatable are back at it again, as Chrissy Teigen's video of baby Miles laughing and kicking has fans convinced he's a mini John Legend (and actually, they are kind of right).
On Sunday, People reported that Teigen uploaded a short video of her baby son, Miles, to her Instagram page, telling fans and followers, "This little dude!" In the video, Miles is seen kicking, smiling and playing with Teigen. Given that it's one of the first close up videos fans have seen of the baby, and that he's getting a bit older now and his looks are starting to show, fans immediately started clamoring to comment on just how much he looks like his dad, John Legend.
"I never comment on celeb posts, but holy crap is he ever a tiny baby version of his Dad! Tiny baby John Legend clone. Genetics are cool," one fan wrote. "I'm like 97.6% sure this is actually John Legend," said another.
Though this isn't the first time people have commented on how much Miles looks like his dad, Teigen has been saying since the day he was born just how much he looks like his sister, Luna. Us Weekly reported that she replied to a fan who inquired who baby Miles looked like on Twitter, saying: "Same nose [as Luna]! He is a few weeks early so he's litttttttle and makes the teeniest noises," Teigen tweeted in May, in response to a fan who asked if her son looked like her 2-year-old daughter. "We are in love."
Teigen and Legend have not been shy about sharing their journey into parenting, either. Back in May, Complex reported that Teigen announced Miles' birth with an Instagram post which she captioned: "Hello, world! This is Miles Theodore Stephens - We are drowning in his little peeps and nuzzles. Our household feels overwhelmed with love. Thank you for all your well wishes!"
In the time since, the couple has been hilariously transparent about everything from breastfeeding to post-birth gauze underwear. "Just spray tanned around my breast pump outline. The logistical challenges of a healthy beach glow while boobing are incredible," Redbook reported Teigen tweeted a few days after giving birth. A few weeks later, Allure reported that Teigen joked about having to wear medical underwear home from the hospital. "I can confirm postpartum life is 90% better when you don't rip to your butthole. Baby boy: 1 point. Luna: 0," she tweeted at the time.
And as for how Legend feels about his mini-me, well, he couldn't be more grateful to be a father. He told Esquire: "I think most friends of mine that are dads want to be good dads. We all want to be as present and helpful as possible, and I've gotten a lot of advice on that. But really, it's just deciding you want to be present in your family—and a constant reinforcement of that."
It really does seem like Legend and Teigen are just phenomenal parents. "Being a dad is about setting your priorities in the right place, listening to your partner and paying attention to what they might need. It's not letting work or outside distractions take away from those moments," Legend added in the same Esquire interview. "You can read all the books you want and get all the advice you want, but the key is doing it with intention and mindfulness."
Be that as it is, it seems life with their two little is going better than ever... and fortunately for the rest of us, that usually translates into a plethora of #content, and some pretty stellar jokes.