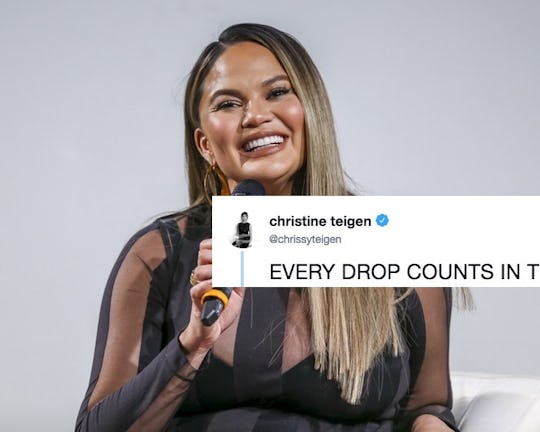 Rich Polk/Getty Images Entertainment/Getty Images
Chrissy Teigen Trying To Save Her Spilled Breast Milk Will Speak To So Many Moms — VIDEO
Oh Chrissy Teigen, how many ways do we love thee? I mean, she was pretty damn wonderful before she had kids, but now that she's a mom she is completely next level. Any time you're doing something that sort of feels like a mom fail but probably isn't, just slide yourself on over to Teigen's Twitter feed for a little validation. Especially when it comes to breastfeeding, in my humble opinion. Teigen's recent video of her spilled breast milk isn't just hilarious, it's also super relatable for any mom out there who has had a tough time with low supply.
Teigen and her husband, singer John Legend, are parents to 2-year-old daughter Luna Simone and new baby Miles Theodore. While they are clearly living their best lives these days, what with all the baby adventures and videos of Luna dancing and general Teigen-inspired hilarity, that doesn't mean everything's perfect in their world. And the Cravings cookbook author is the first one to cop to her imperfect parenting style. Actually, calling it imperfect feels wrong... it's more about honesty as a mom with the Lip Sync Battle host than anything.
Whether she's getting real about steaming her vagina or trying to hoover up some spilled breast milk, she's all about keeping it real. On Wednesday Teigen shared a video with her 10 million-plus followers on Twitter of some breast milk she had apparently spilled. In the video she said, "Spilled my breast milk. And this is how important it is in this house."
Teigen appears to be trying to use an eye dropper of some sort to soak up the breast milk but it doesn't seem to be going anywhere. That didn't stop her fans from trying to offer some helpful advice for getting back that precious breast milk, though.
When the eye dropper scenario didn't appear to work, Teigen decided to try a new method. She shared a follow up video of herself trying to scoop up the precious breast milk while she laughed and said, "We're trying." Her caption for the second video?
I am so jealous of people with plentiful boobies.
Though she has not explicitly said so, it seems Teigen may have trouble with not producing as much breast milk as she might like for baby Miles, something many women experience. According to Very Well Family, low breast milk supply can happen for a variety of different reasons, such as stress, hypothyroidism, infection or illness, extreme weight loss or weight gain, or a "bad latch" (when your baby has trouble latching properly to your breast)
So while it's pretty funny to watch Chrissy Teigen try to scoop up some spilled breast milk, it's actually something lots of moms struggle with. As evidenced by the comments on her tweet.
One fan shared a link to a breast milk donor site called Medolac, where women donate breast milk to be used by other moms who might not be producing quite enough for their babies. And Teigen jumped on that suggestion pretty quickly.
The concept of donor breast milk is a stroke of genius, in my opinion. Not every mom out there can supply enough for their baby, and this is a great way for moms to help other moms when they might be feeling especially vulnerable.
Come to think of it, this might be why Chrissy Teigen is a mom we all consistently swoon over. She isn't afraid to be vulnerable in front of people, to share her mistakes and her silliness and her humanity in general.
And she's not above trying to scoop up some spilled breast milk off her kitchen table. A kid's gotta eat, after all.