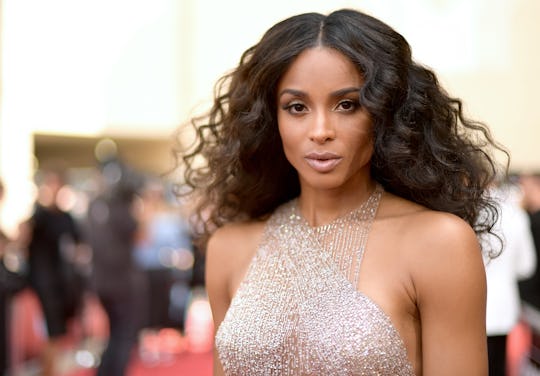 Matt Winkelmeyer/Getty Images Entertainment/Getty Images
Ciara's 4-Year-Old Son Stole The Show At The AMAs Red Carpet
Apologies to the recording artists hoping to steal the show at the 2018 American Music Awards on Tuesday night, because you all got upstaged by a 4-year-old child. While husband Russell Wilson of the Seattle Seahawks stayed home, Ciara walked the AMA red carpet with her son, Future, and he was definitely the most popular guest of the evening. The dapper young man wore a black and red Gucci blazer with matching Gucci sneakers, Vogue reported, proving that mom doesn't need Wilson by her side to make the red carpet best dressed list.
Of course, his dope threads weren't the only thing working in the 4-year-old's favor. I mean, it certainly doesn't hurt that Future is freakin' adorable all on his own, too. All it took was one word from the tot to make correspondents AJ Gibson and Erika Jayne literally squeal with delight during the pair's red carpet interview. Later, while Ciara spoke to Jayne about her work with the Why Not You Foundation, a nonprofit dedicated to empowering youths and fighting pediatric cancer, Gibson couldn't help but get distracted by little Future as he toddled about the stage, trying to find his mark for the camera. All three adults eventually abandoned their duties to, once again, coo over him.
During the main event, Ciara took the stage for a performance of "Level Up," her first single in three years, alongside rapper Missy Elliott. The last time the two worked together was in 2005, on the song "1, 2 Step," the most important collaboration since peanut butter and jelly. The singer also performed her song "Dose," Billboard reported, with a little help from a drumline.
"Level Up" is a reference to a controversial Instagram post that caused some serious backlash in January. The singer posted a video clip of Pastor John Gray delivering a sermon encouraging women to "carry yourself like a wife" in order to find a husband. She captioned the post, "#LevelUp. Don't settle." Quite a few fans were quick to comment that a woman was and is a whole, complete person regardless of her marital status, causing Ciara to post a response the following day:
I was once that girl wanting to be loved a certain way but was making the wrong choices. I found myself at my lowest moment. I was a single mom sitting at home, and then I realized that the perfect love I was looking for was how God loves me, how He wants me to be loved, and who He was calling me to be as a mom and a woman. That's when I realized married or not married… I needed to love myself. #LevelUp.
Ciara and Wilson have been very candid about the role that religion plays in their relationship. You may recall that the two were very, very vocal about remaining celibate while they were dating. Wilson explained the reason he refused to get to know his girlfriend in the biblical sense during a sit-down with Pastor Miles McPherson at The Rock Church in 2015:
She was on tour and I was looking at her in the mirror, and she was sitting there. And God spoke to me and said, 'I need you to lead her.' And I was like, 'Really? Right now?' And he goes, 'No, I want you and need you to lead her.' And I asked her, 'What would you do if we took all that extra stuff off the table? And just did it Jesus's way?'
Their decision to remain celibate works for the couple, and the two got married about a year later and welcomed a daughter, Sienna Princess, in April 2017. And despite some grumbling from Future Sr., Wilson and his stepson reportedly get along great. In fact, it's not too farfetched to assume 4-year-old Future got his fashion sense from his step-dad. His red carpet flair, however, he obviously got from his mom.