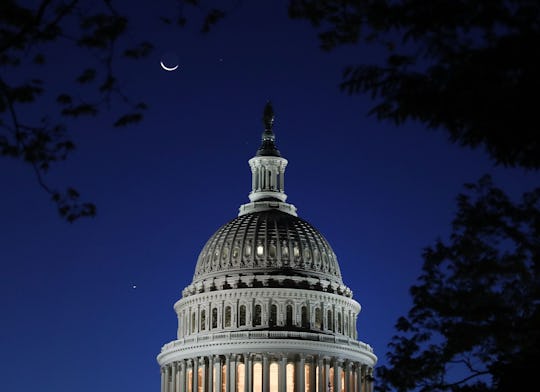 Mark Wilson/Getty Images News/Getty Images
Congress' Sexual Harassment Reporting Rules Make Survivors Jump Through Hoops
In the past month or so, the United States has seen a surprising number of big-name sexual assault and harassment allegations come to light, with men like producer Harvey Weinstein and former president George H.W. Bush being accused by multiple women of abusing their positions of power. Women have been sharing their own #MeToo experiences online in surprising numbers, and their stories of harassment have taken place all over the country, from Hollywood to Capitol Hill. But as The Washington Post found when digging into harassment in the government, Congress' sexual harassment reporting rules are sexist in myriad ways — which likely helps explain why so few harassment or assault claims come to light against senators and representatives.
According to The Washington Post, Congress has enforced a set of rules for itself that differ from the regulations set for the private sector or other echelons of government. These rules make it harder for accusers to come forward with allegations of sexual assault or harassment, and make it easier for lawmakers to sweep incidents under the rug.
A law that was instated in 1995 means accusers have only 180 days after an alleged incident of assault or harassment to file a complaint with the Office of Compliance, and in order to do so, they need to call ahead and receive a special password to access the form.
Accusers then need to go through approximately 30 days of mandatory counseling, with an Office of Compliance counselor informing them of their rights and laws that may apply to the situation. After that, the office notifies the accusers' employing office and approximately 30 days of mediation begin, in which the office tries to resolve the complaint on its own, according to The Washington Post. If a settlement takes place, the funds come from a U.S. Treasury purse. In a span of 17 years, 235 payouts came out of the fund, coming to a total of $15.2 million.
If and when mediation doesn't work — about two months after an accuser originally filed a complaint with the Office of Compliance — the complainant can then file a case through a federal civil court or get an administrative hearing.
It's a process that women in Congress are now taking a stand against. "Many of us in Congress know what it's like, because Congress has been a breeding ground for a hostile work environment for far too long," California Rep. Jackie Speier said in a video she shared on Twitter on Friday.
Speier is now crafting legislation to change Congress' outdated reporting rules, which essentially work to protect employers, rather than victims. Speier's representative told Bustle that the legislation would make annual sexual harassment training mandatory for Congress' members and staff and change the OOC's current complaint system.
"There's no accountability whatsoever," Speier told Politico. "It's rigged in favor of the institution and the members, and we can't tolerate that."
One survey, carried out in July this year, found that 40 percent of female Congressional staff believed sexual harassment was a problem in their field, while one in six had personally experienced harassment. Only 10 percent of the women surveyed knew there was even a system in place to report harassment in Congress.
"You're dealing with high-profile people and people are really afraid," Kristin Alden, the founder of an employment law firm in Washington, told Roll Call in February. "The fear factor is tremendous, much stronger than we've found it to be in private sector or executive agencies."
It's clear that sexual harassment is a problem in Washington — and so are the limited means women have for addressing the problem within Congress. Whether this recent spotlight on #MeTooCongress and its outdated rules will bring about change, however, remains to be seen.