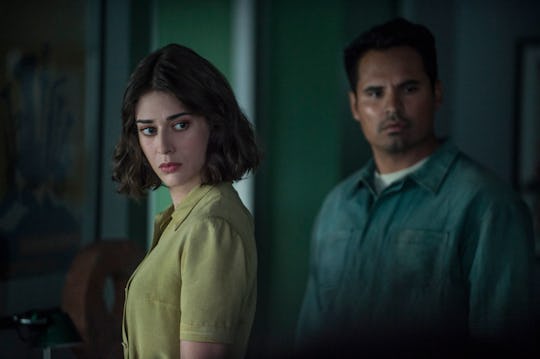 Aleksandar Letic/Netflix
Netflix's New Sci-Fi Movie, 'Extinction,' Shows A Dark Future
Netflix is really ramping up its original movies, including a fascinating sci-fi thriller called Extinction. The new film stars Narcos actor Michael Peña as Peter, a father who has a recurring dream of losing his family during an extraterrestrial invasion that comes true. Though the show may sound unbelievable some can't help but wonder if Extinction could really happen. Or at least part of it. Well, that all depends on what you believe.
For decades there have been reports of UFO sightings and the idea of life on other planets is far from new. Extinction isn't the first movie to explore the idea of an alien invasion after all. But could there really be aliens out there planning to attack Earth? Who knows? There have been questions and even evidence supporting the possibility of life on Mars for years, so I personally wouldn't dismiss the idea of alien life and a possible invasion. Though I hope it doesn't come to that.
As for Peter's dreams being prophetic, this idea isn't that new either. If you're Jewish or Christian, you're probably familiar with the story of Joseph and how he had prophetic dreams that made his brothers hate him at first. But later, his ability to interpret dreams ultimately saved them (and others) from a future drought.
Outside of a religious context, there's been a lot of study and research into the prophetic nature of dreams. In a blog post for The Huffington Post, Natasha Dern said:
Dreams emerge from the unconscious and occur in the Theta Brainwave state. In this state, we are open to receive insights/information from the subconscious. In the deeper state of Delta, our minds are passive and therefore can pick up cues from the energy of people, places, present day or future situations from what Jung referred to as the collective unconscious. Tapping into this collective mind is a rich source of information, guidance, and spiritual directives.
Whether or not you believe in prophetic dreams, this is only a part of the story being told in Extinction, which is, by the way, being presented as a work of fiction and is in no way trying to convince you that your dreams can show you the future. Though in Peter's case, his dreams do prove to be prophetic. Once the aliens attack, he and his family, as well as the rest of humanity, have to fight for their lives. Along the way Peter discovers he has an unknown strength that can help keep them safe from harm.
Emmy nominee Lizzy Caplan and Luke Cage star Mike Colter will also star in the film. Caplan plays Peter's wife, Alice, and Colter plays his friend, David. The movie also stars Emma Booth, Israel Broussard, Tom Riley, Lilly Aspell, and Sandra Teles. Ben Young (Hounds of Love) directed the movie from a script by Spenser Cohen and Bradley Caleb Kane. Mandeville's Todd Lieberman and David Hoberman produced the film. Extinction was originally slated to be released by Universal but Netflix bought it after Universal decided to pull it from it's schedule, according to Variety. This seems to be a new method for Netflix, who also bought The Cloverfield Paradox from Paramount and then surprise released it after the Superbowl.
Although Universal decided to take it off their schedule that doesn't mean Extinction isn't a good film. On the contrary, studios decide to sell films or film rights pretty regularly, and it doesn't always have to do with the film's expected success. Additionally, Netflix has had a number of great original films recently like their rom-com Set It Up. Thus, I wouldn't count Extinction out just yet; it may surprise you.
Extinction begins streaming on Netflix on Friday, July 27.