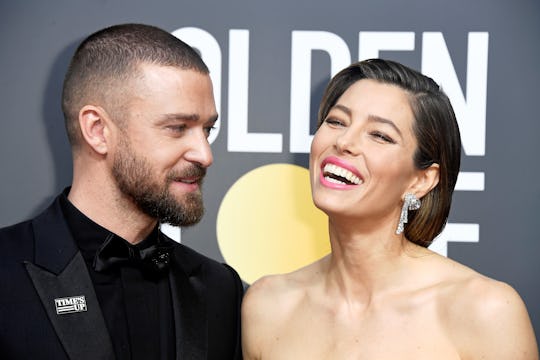 Frazer Harrison/Getty Images Entertainment/Getty Images
People Are Dad Shaming Justin Timberlake For *This* Ridiculous Reason
It seems as if Justin Timberlake has always been in the public eye — from his early days in the boyband, *NSYNC, to his solo career and new role of a father to his 3-year-old son, Silas, with his wife, Jessica Biel. Although Timberlake and Biel might be used to being in the public eye and all that comes with it (like the criticism), his young son isn't. This is why it is so unfair that dad shamers are coming for Justin Timberlake all because of his son's long hair. Seriously, it's so uncalled for.
Timberlake and Biel tend to keep their son away from the public eye, according to JustJared, choosing to occasionally post photos of Silas to their respective Instagram accounts without showing too much of his face. So, when Timberlake posts a photo of his son to his Instagram account, fans should be aware that it's a pretty big deal and is typically for a reason. Like on Friday, when Timberlake posted a super sweet photo of Silas and Biel together in Paris, France kissing on Instagram showing his appreciation for two of them, according to TODAY. "If that pic doesn't say the 'City Of Love' then I'm out," Timberlake captioned the photo.
But instead of being excited about Timberlake's newest photo of his son, some people decided to shame Timberlake instead for letting his son have long hair, according to BuzzFeed. Yes, for having hair that reaches past his shoulders.
People took to the comments of Timberlake's Instagram post to share their opinions on Silas' hair — and they had a lot of them.
"I thought you had a boy?" one commenter asked.
"Who is that little girl in the pic?" another commenter added.
"Isn't it time for a haircut?" another commenter asked.
"Cut his hair for goodness sake," a commenter stated.
Haircuts are all subjective — there are no written rules or laws that state that young boys shouldn't have long hair, just like there are no rules or laws that state that young girls should have long hair. The association between women and long hair reportedly dates all the way back to ancient Greece and Rome, according to TIME, where women typically had longer hair than men. This tradition is reportedly carried on through the Bible, according to TIME, where hair is seen as a symbol of "social significance." But that doesn't mean that boys have to have short hair.
There are so many reasons why young boys and girls choose to wear their hair long, according to ScaryMommy — whether it be because they simply like the look of it or simply don't want to get it cut. Because of this, no one should judge Timberlake, Biel, and their young son for it. When they want to cut Silas' hair, they will do that. And in the meantime, fans should respect Timberlake and Biel's decision as parents. This isn't even the first time that Timberlake has posted a photo of Silas sporting his longer hairdo — in the past few photos that Timberlake has posted of his son, Silas can be seen with his gorgeous, long curls.
But for every person that criticized Timberlake on his son's long hair in the comments section of his most recent post, there were just as many people defending Timberlake for his son's hair length. "If you are commenting about hair, you are 100% missing the damn point of the post," one person commented. "Show love people!!"
"It's just a hairstyle and nothing more," another person added.
"Love his hair and this pic! #parentingwin," a commenter stated.
At the end of the day, people should let parents be parents and let little kids be kids, no matter what hair style they decide to have. Although Timberlake might have been criticized for his hairstyles in the past, (it's hard to forget his bleach blonde highlights or his curly hairdos, according to GQ), Timberlake's son's hair should be off-limits.