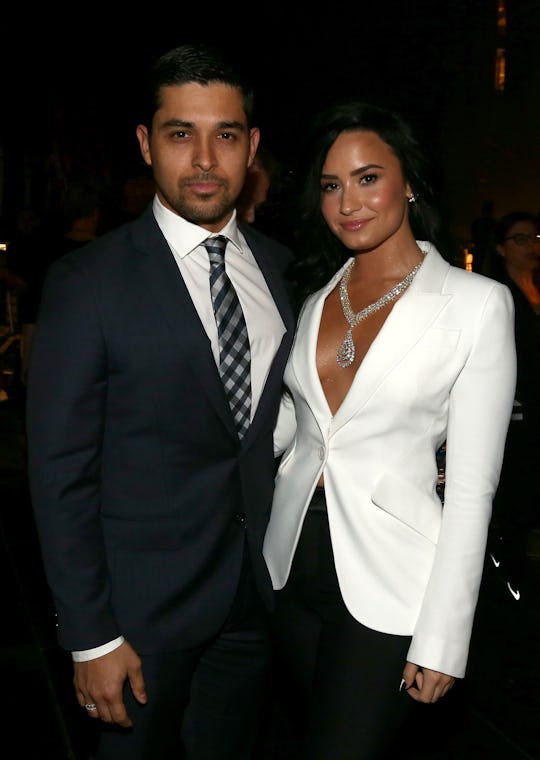 Christopher Polk/Getty Images Entertainment/Getty Images
Demi Lovato Continues To Recover As Ex Wilmer Valderrama Visits Her In the Hospital
When news broke on Tuesday, July 24 of Demi Lovato having been rushed to the hospital after an apparent drug overdose, the world waited anxiously for any updates on her status. Was she okay? Did help get there in time? Thankfully, it was revealed that a friend had reportedly administered Narcan — a drug that reverses the effects of a narcotic overdose — on the singer before she was taken into emergency care. Now, four days after the scary incident, fans have received another update on the singer. According to reports, Demi Lovato continues to recover as her ex, Wilmer Valderrama, visits her in the hospital.
On Saturday, a source spoke with People, offering more insight into Lovato's continued recovery. "She's resting and getting better in the hospital," the source told the publication. "Her whole family and Wilmer are just there to support her through recovery." Another source told People, "Wilmer has spent hours at the hospital with Demi every day. He seems very concerned about her." People had previously reported that the 38-year-old actor was "shocked" over Lovato's apparent overdose. "He knew she was going through a tough time but he wasn't prepared for this," the source said on Tuesday. "He saw her through so many ups and downs and was her rock through some of her darkest moments. To see her back in such a sad and vulnerable place is heartbreaking for him."
If you remember, Lovato and Valderrma ended their relationship in June, 2016 after dating for six years, according to Seventeen. The couple posted a joint statement on their Instagram accounts at the time, writing, "After almost 6 loving and wonderful years together, we have decided to end our relationship. This was an incredibly difficult decision for both of us, but we have realized more than anything that we are better as best friends. We will always be supportive of one another. Thank you to everyone who has offered us kindness and support over the years."
Lovato first began seeking treatment for her substance abuse issues back in 2010, Us Weekly reported. However, last month the singer revealed that she had relapsed after six years of sobriety with a ballad titled, "Sober." And the song's lyrics were both emotional and incredibly telling of her struggles:
Mama, I'm so sorry I'm not sober anymore / And Daddy, please forgive me for the drinks spilled on the floor," she sings. "To the ones who never left me / We've been down this road before / I'm so sorry, I'm not sober anymore. … I wanna be a role model / But I'm only human.
In a 2013 interview with Access Hollywood, Lovato revealed just how severe her past struggles with addiction were. "Something I've never talked about before, but with my drug use I could hide it to where I would sneak drugs. I couldn't go without 30 minutes to an hour without cocaine and I would bring it on airplanes," she told the publication. "I would smuggle it basically and just wait until everyone in first class would go to sleep and I would do it right there. I'd sneak to the bathroom and I'd do it."
Clearly, drug addiction — in addition to her mental health problems — have resulted in a long and arduous battle for Demi Lovato through the years. During this difficult time, Lovato has received support from so many sources, including her family, friends, and fans. It's pretty amazing to me that her ex, Wilmer Valderrama, has been so involved in her hospital recovery as well. (I guess that whole breakup line about remaining "best friends" was no joke for Lovato and Valderrama.) I wish Lovato the best during this trying time — and I truly hope that with this support, she's able to make a full recovery and begin anew in her sobriety journey.