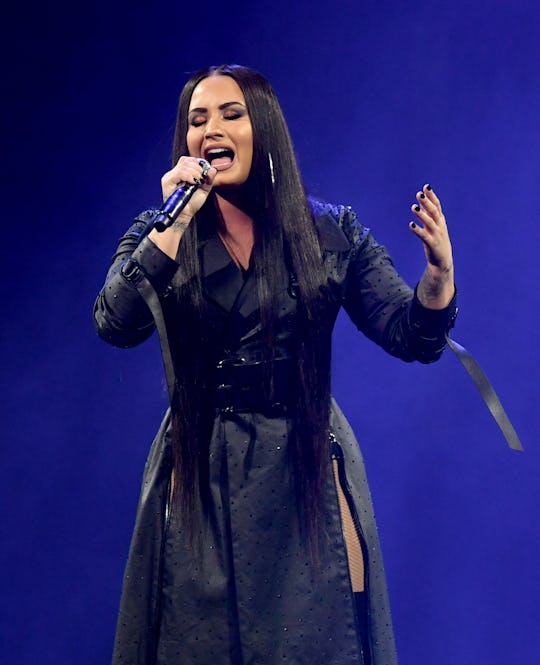 Kevin Winter/Getty Images Entertainment/Getty Images
Demi Lovato Reportedly "Stable" After Being Hospitalized For Alleged Overdose
After celebrating her six years of sobriety earlier this year, Demi Lovato was reportedly rushed to the hospital on Tuesday for an apparent heroin overdose, TMZ reported. According to TMZ, Lovato was reportedly taken from Hollywood Hills to a Los Angeles hospital shortly before 12:00 p.m. where she is allegedly being treated, although there have been no updates from her representatives on her condition.
UPDATE: On Tuesday evening, TMZ reported that Lovato did not allegedly overdose on heroin, citing a source "connected to the singer," who did not elaborate on her condition.
EARLIER: Shortly after the reports began to circulate, People reported that a source said that Lovato is now "okay and stable." Previously, the Los Angeles Police Department told People: "LAPD and LAFD responded to a medical emergency at the 8000 block of Laurel View Dr. at 11:40 a.m." The LAPD did not clarify if the person in question was Lovato. Lovato's representatives did not immediately respond to Romper's request for comment.
In March, Lovato opened up about celebrating six years of sobriety at a concert in New York. With tears in her eyes, she told the thousands of fans surrounding her about the moment she realized she needed to get sober. "Yesterday, six years ago, I was drinking vodka out of a Sprite bottle at 9 in the morning, throwing up in the car," she told the audience, Billboard reported at the time. "And I just remember thinking, 'This is no longer cute. This is no longer fun. And I'm just like my dad.' So I took a look at my life and I said, 'Something has to change, I've got to get sober' -- so I did."
Last month, Lovato released a new song called "Sober," where she opened up about relapsing, implying that she had broken her sobriety after a little more than six years. "My truth..." she wrote on Twitter when announcing the new track. The chorus goes:
Momma I'm so sorry I'm not sober anymore / And Daddy please forgive me for the drinks spilled on the floor / To the ones who never left me, we've been down this road before / I'm so sorry, I'm not sober anymore.
Lovato has publicly opened up about her battle with alcoholism, substance abuse, bipolar disorder, depression, and bulimia on multiple occasions, according to People. In 2010, she spent three months in rehab, as E! News reported. And in a 2016 interview with American Way magazine, Lovato explained how abusing alcohol, cocaine, and OxyContin was how she medicated herself before checking into rehab, according to E! News.
Then, in 2013, TMZ reported that Lovato had allegedly been living in a "sober house" for about a year.
In March 2017, Lovato opened up about how great it felt to hit her five-year sober anniversary in an interview with Entertainment Tonight at the 2017 Kid's Choice Awards. According to Entertainment Tonight, she told the interviewer:
It feels amazing. All I've been doing is focusing on bettering myself. It's been quite the journey, but it's well worth it ... Surrendering is the most important thing whenever you're trying to battle your demons. you have to admit that you have a problem first, and then you can overcome it.
Later in 2017, YouTube released a documentary about Lovato entitled Simply Complicated, where she shared stories about her history with drug abuse. "I felt out of control the first time I did it," Lovato said in the documentary, according to The Hollywood Reporter. "My dad was an addict and an alcoholic. Guess I always searched for what he found in drugs and alcohol because it fulfilled him and he chose that over a family."
Almost immediately after news broke, scores of fans and celebrities took to Twitter to share their well wishes for the singer, with #PrayForDemi trending.
If you or someone you know is seeking help for substance use, call the SAMHSA National Helpline at 1-800-662-HELP(4357).