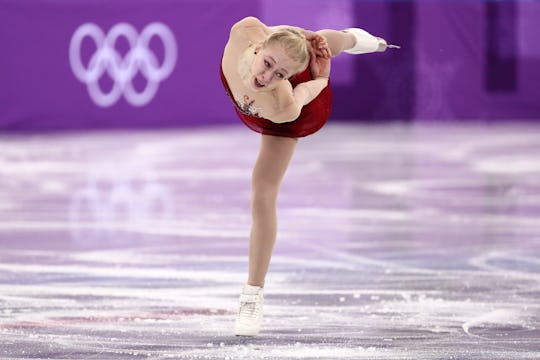 Jamie Squire/Getty Images Sport/Getty Images
Ever Wonder How Much An Olympian Gets Paid For The Olympics?
Some people dream of competing in the Olympics, but only a select few actually get to see that dream realized. Millions of people from all over the world this month will watch as select athletes get to compete in the Winter Olympics and watching the Olympics might inspire some of those people to become an olympic athlete. But if money was ever motivation for their dreams, then finding out if the Olympic athletes get a salary might just put those dreams to a halt.
Money should never stop people from chasing their dreams, but if you thought the life of an Olympian was as glamorous as the cameras make it seem, then you thought wrong. While Olympic athletes do make money, they're not just working 40 hours a week (or more) like someone who has an office job and who knows what they'll be making at the end of each month or each year. Because that is what a "salary" technically is — a fixed amount of money that a person gets paid per paid period, regardless of how much time and effort they put into their job or the projects they take on the side.
But Olympic athletes make their money a little differently than most, according to CBS Sports, including athletes who play for a national sports team. Olympic athletes do not sign a contract guaranteeing them money, and according to USA Today, the United States government does not pay athletes for competing in the Olympics, even if they are there to represent the country (say what).
Ahead of the 2012 Olympics, according to Forbes, one study found that half of the athletes ranked high in their sport, "only made $15,000 annually" from all sources of income. That includes endorsements, money won from competition, corporate sponsors, and grants given to them so they could go and compete in the Olympics. Compared to your average worker, this doesn't seem like a lot. A 2015 study found that fresh college graduates earned an average salary of $50,556.
But that $15,000 didn't come from one person or one source — the athletes had to work hard to get that money together. This is why you see so many athletes on Wheaties boxes in the cereal aisle at the grocery store every two years. Taking endorsements, even with Wheaties, helps the athletes make money during the the off season. Olympic swimmer Michael Phelps is worth a reported $55 million, according to E! News, largely due to the sponsorships he takes.
The reality is, some Olympic athletes from the United States have to work multiple jobs in between training so they can afford to go to the Olympics every four years. Some people work hourly jobs, according to The Penny Hoarder, working in retail or the food service industry — while other athletes have their own businesses, work in the entertainment industry, or coach sports themselves. But if they do have a salary, it is because of their side jobs, not because of the Olympics.
But once Olympic athletes win gold medals, they do start seeing money come through (just through a bonus and not through a salary). All Olympic athletes competing for the United States earn a "medal bonus" according to Money Under 30, where they make money for each medal earned for their country.
During this year's Winter Olympics, according to Business Insider, the United States Olympic Committee will pay athletes $37,500 for winning a gold medal, $22,500 for winning silver, and $15,000 for winning a bronze medal in every event they win in. Although this is far less than what other countries award their athletes, according to Business Insider, this bonus is the most money that Olympians have ever taken home for winning a medal.
But most Olympic athletes find value in the experience and getting their name out there than making money, according to USA Today. And at the end of the day, that kind of passion is what people preach to young children when it comes to finding a career. As the old saying goes, "do what you love and you'll never have to work a day in your life." And at the end of the day, for athletes competing in the Olympics, getting the opportunity to go for the gold (and actually winning a medal) is more important than any salary you can get in an office job.