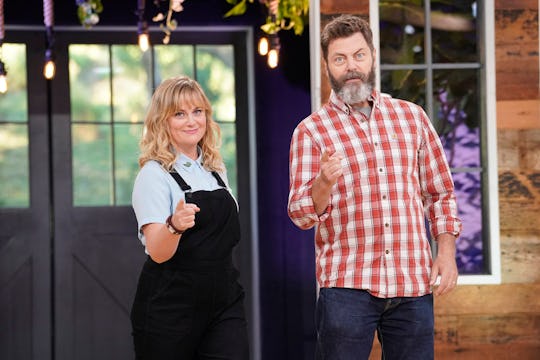 Paul Drinkwater/NBC
Amy Poehler Shows Her Appreciation For Crafters In 'Making It'
We've all seen enough Pinterest fails to last several lifetimes, but that has still never stopped me from looking at something on Etsy and wondering if I could make it myself. The answer: not usually. On NBC's Making It, the contestants are a little more experienced and confident with their crafting abilities and since Amy Poehler was behind the show's creation, it makes you wonder if Amy Poehler crafts too. Making It is her debut into the world of reality TV, after all.
In real life, Poehler isn't as much of a crafter as she is an avid admirer of those who can craft and make a living from it. Paul Telegdy, the president of NBC's alternative and reality TV group, told Reality Blurred that Poehler came to him with the idea as a way to pay homage to those who create handmade masterpieces out of nothing.
Telegdy explained that Poehler said something to the effect of, "I just love these people who make things. You know that feeling when you get something that someone's actually made for you, in a world of mass-produced products, cell phones, cars, everything, they all look the same. Isn't it amazing when you get something unique? People who can do that should be celebrated."
So while Pohler herself may not craft on a regular basis, she's certainly inspired by those who do.
Fans of Parks and Recreation know all about Poehler's counterpart, Leslie Knope, and her ability to create themed binders and friendship scrapbooks at the drop of a hat and better than pretty much anyone else. I don't know how much the real life Poehler is like Leslie, but in 2015 she told Business Insider that she felt as though the part was written perfectly for her. So even if there's no evidence of Poehler being on the creative side herself, I'm inclined to believe that it's in there somewhere, especially if she has such an appreciation for others who dedicate their time and lives to crafting.
Making It stars Poehler and her former Parks and Rec co-star Nick Offerman, who is always going to be the woodworking maven Ron Swanson to me, no matter what you tell me about the actor in real life. But while they are in charge of creating competitions and challenges for the contestants on the show, the creative ambassador of Barneys, Simon Doonan, and Etsy trend expert Dayna Isom Johnson, will serve as judges. At the very least, this means that Poehler can use her creativity to inspire and propel the contestants forward through the different challenges each episode.
Offerman, who does have real life experience in woodworking much like Ron Swanson, was all for being part of a show that centers on working with your hands rather than buying more of the same products and merchandise. "This is a really important thing that human beings can do in this modern day, consumerist society, where it's so easy to shop for things with the click of a button," he told Vanity Fair. "It's such a productive way to spend your time." Am I the only one who heard that in Ron Swanson's very specific and recognizable voice?
Although Poehler told Vanity Fair that she's more of an admirer of handmade items and less of a DIY individual herself, I have complete faith in her on-screen dynamic with Offerman to make the show interesting and fun to watch — in a friendly and upbeat environment.
Don't get me wrong — glue guns are plenty dangerous and I've been pricked by an embroidery needle more times than I can remember. But Making It is about having fun while creating things for a huge cash prize. I don't guarantee there won't be any frustration-related meltdowns, however.