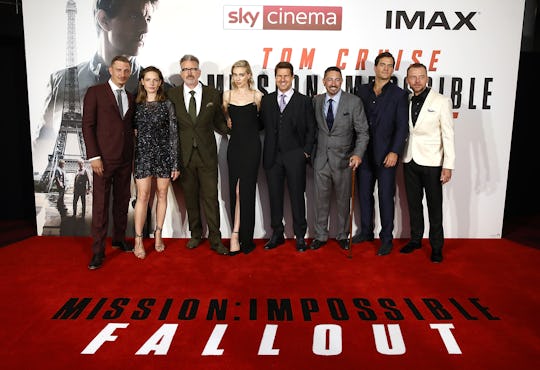 John Phillips/Getty Images Entertainment/Getty Images
Should 'Mission Impossible: Fallout' Viewers Stay For A Post-Credits Scene?
I'm not a follower of the Mission: Impossible series, but even I know there's a new installment in the franchise coming out on July 27 in the United States. Tom Cruise's sixth appearance as Ethan Hunt is sure to delight fans of the series, who may be interested in knowing before they head to the theater: does Mission Impossible: Fallout have a post-credits scene? It's a Marvel movie world, and that's made moviegoers wary of whether they need to stick around after the credits lest they miss something very important.
In Mission: Impossible: Fallout, Syndicate is back, "with a more extremist terrorist splinter group that wants to nab three spheres of plutonium, ostensibly bringing the world to its knees," USA Today reported Tuesday. Deadline called the movie "the best in the series that has been going since 1996," so this is one summer flick that Mission: Impossible or Tom Cruise fans are definitely going to want to check out.
Mission: Impossible: Fallout is reportedly 2 hours and 27 minutes long, according to the movie's IMDb page. And after fans have been sitting in the theater for almost two and a half hours, the last thing they'll want to do is expect an epic post-credits scene, only for there not to be one.
So, does the movie feature a scene after the credits? According to several reports, there is no post-credits scene at the end of Mission: Impossible: Fallout.
The Daily Express and Tech Advisor both confirmed Mission: Impossible — Fallout does not have a post-credits scene after all the Hunt action has concluded. "There's nothing really at the end — no extra scene, no teases, no secret footage," Tech Advisor reported.
Both of those outlets are out of the United Kingdom, so there's a super slight chance that something will be added to the credits when the movie is released in U.S. theaters. But that would be really weird, and is not very likely to happen.
But if you're a fan of the other Mission: Impossible movies, or like Cruise in general, or are just looking for a summer action movie to catch this weekend, it sounds like Fallout is worth your time.
In addition to Cruise, the latest Mission: Impossible installment features Ving Rhames, Simon Pegg, Rebecca Ferguson, Alec Baldwin, and Henry Cavill, according to Consequence of Sound. Vanessa Kirby, Sean Harris, and Angela Bassett are all in it too, according to USA Today.
Cruise actually suffered a major injury on the film, causing the movie to go on production hiatus, according to Business Standard. The actor reportedly jumped off the roof of a building and hit the wall of another building, and filming was stalled for an extended period.
But director Christopher McQuarrie told IANS, India's largest independent newswire, that the production team actually looked at the extra time as an opportunity. He was quoted in Business Standard:
You take the thing which has gone wrong and use it for your advantage. We shut the production down, I went into the editing room and Tom went to take care of his ankle. And it benefited the film because it allowed us to look at the film, we have been making and make certain changes.
A lot was written while Tom was recovering... In the end, it all helped the film.
Fortunately, Cruise wasn't permanently injured in the fall, and was able to return to work on Mission: Impossible: Fallout within months, according to Newsday.
Obviously, Cruise worked very hard to make sure the movie could be completed. But there are a lot of other people who worked hard to make Mission: Impossible: Fallout a reality too. Namely, all the people you see in the credits at the end of the film. Even if there isn't a post-credits scene at the end of Mission: Impossible: Fallout, you really should consider staying and acknowledging all the work and effort they put into the movie as well.