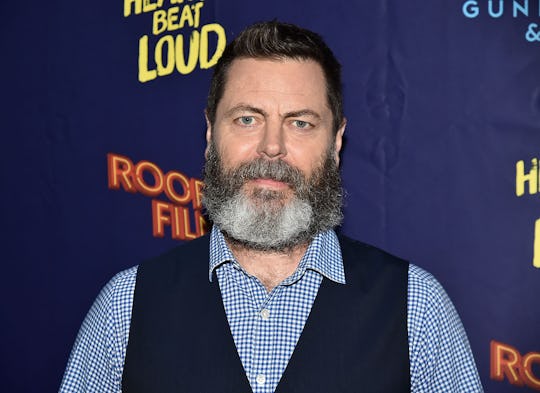 Theo Wargo/Getty Images Entertainment/Getty Images
'Making It' Host Nick Offerman Has A History Of Being Creative
After being co-stars for seven seasons of Parks and Recreation, Nick Offerman and Amy Poehler are reuniting for a brand new show. But it's a little different than their last project. They're hosting the NBC reality competition series Making It, in which contestants tackle increasingly creative craft challenges. But what drew Offerman to this particular show? Does Nick Offerman craft? Ron Swanson was certainly crafty, even if he would absolutely not have used that word; turning a sconce into wedding rings is as crafty as it gets.
Nick Offerman is indeed an expert at all things craft-related. In a first look at the series, he describes himself as an "actor, woodworker, and craft enthusiast." Meanwhile, Poehler is here to learn and show appreciation. Offerman demonstrates his knowledge of craft lingo right away, deploying the definition of "decoupage" without hesitation. "I cleverly knew if I was the actor who could use tools, that I'd be the one Amy would pick when she made a crafting show," he jokes.
His skills definitely had an influence in him ending up on the show. While talking to USA Today, Poehler had nothing but praise for Offerman's ability to whip things up and transform one object into another. As a Parks and Rec parting gift, he'd taken some oak trim from the set and reworked it into a canoe paddle. "I received many handmade, beautiful things from him," she said. "And from me, he's received a couple of Bed Bath & Beyond coupons, a candle, a couple of great phone cards."
Offerman was actually a carpenter before he was an actor. He'd been working with wood his whole life and it was something he continued to do even after his acting career took off. He has a shop in Los Angeles called Offerman Woodshop where he employs several other woodworkers who all have their own specialties. "This other clown job is really cramping my style at the woodshop," Offerman told NPR. He's a big proponent of encouraging others to make things, too, adding:
If you make stuff for your house or your loved ones, you're curating your life in a way, saying, I don't have to just limit my choices to what I can buy at Amazon. I can also choose to make a table myself. And even if it looks crappy, it's still so much more charming because you've made that gesture.
It seems like he'll be the perfect host for a show like Making It, where contestants will need bolstering and assistance. He can do both. In fact, he's such an authority on craftiness that he's quite literally written the book on woodworking. In 2016, he published Good Clean Fun, which aimed to be friendly introduction to the art of woodworking.
Offerman told Vanity Fair that he worked at his woodshop alone for many years, but splitting time between it and Parks and Rec led to the space opening up and becoming a collective for other talented craftspeople. You can take a look at their creations on the Offerman Woodshop website. They produce everything from furniture to boats to gazebos, as well as smaller projects like cutting boards, pencil holders, and (of course) moustache combs. The Offerman Woodshop collective has an Instagram account as well, where curious fans can see works in progress inch their way towards completion.
Long before Ron Swanson became imprinted on the pop culture consciousness, Offerman was a skilled woodworker. Now he's taking all those years of expertise and applying them to Making It, where he'll help other creatively-inclined craftspeople realize their vision as they compete to win the grand prize. Making It airs on NBC on Tuesdays.