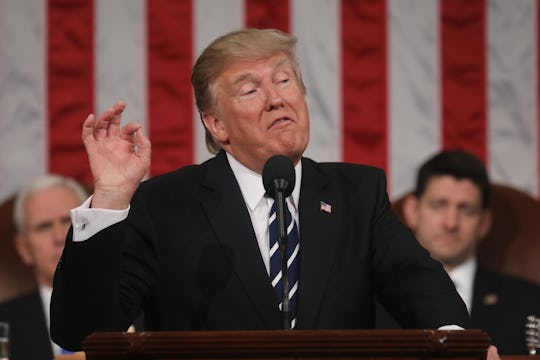 Pool/Getty Images News/Getty Images
Twitter Has Lost It Over These Donald Trump Quotes From 'Fire And Fury'
A bombshell expose about the Trump campaign and presidency by journal Michael Wolff came out on Friday morning, its release date moved up four days early due to high demand. Some people have read excerpts in articles, others heard news anchors reference lines, but now that everyone can get their very own copy, the Donald Trump quotes from Fire and Fury have Twitter shaking their damn heads. Whether you can't believe he said those things, or you're not even the slightest bit surprised, it's still worth discussing.
Trump has denied speaking to Wolff, tweeting that he "authorized Zero access to White House" and calling the book "phony" and "full of lies, misrepresentations and sources that don't exist," but former White House Chief Strategist Steve Bannon, the source of some of the most incendiary lines that have been widely circulated, notably has not refuted his quotes. Trump's lawyer has issued cease and desist letters to Bannon, Wolff, and his publisher to prevent the book from coming out. Yet it still did, implying that those involved aren't too concerned about his legal standing. Wolff's credibility is still being debated, but Politico polling indicates that the majority of Americans already believe that Trump is a thin-skinned liar, so he's got his work cut out for him if he wants to convince readers that Fire and Fury is a work of fiction.
Here are some of the most interesting lines from the book (which I haven't read, yet, but I have to say, I'm getting very curious), and the reactions.
On Getting His Friends' Wives Into Bed
"Trump liked to say that one of the things that made life worth living was getting your friends' wives into bed," Wolff wrote.
In pursuing a friend's wife, he would try to persuade the wife that her husband was perhaps not what she thought. Then he'd have his secretary ask the friend into his office; once the friend arrived, Trump would engage in what was, for him, more or less constant sexual banter. Do you still like having sex with your wife? How often? You must have had a better fuck than your wife? Tell me about it. l have girls coming in from Los Angeles at three o'clock. We can go upstairs and have a great time. I promise... And all the while, Trump would have his friend's wife on the speakerphone, listening in."
As creepy and gross as that image is, most people are responding with, "Yeah, and?" This is far from the worst thing we've heard about Trump.
On Comparing Himself To Nixon
Trump reportedly invoked President Richard Nixon's former White House Counsel John Dean when discussing former FBI Director James Comey, who claims that he was fired after Trump repeatedly pressed him to swear his loyalty to him. Comparing yourself to the president who was about to be impeached for obstruction of justice before finally resigning is... not a good look.
On Russia
Trump reportedly was unconcerned with news reports that his Attorney General, Jeff Sessions, had met with Russian Ambassador Sergey Kislyak. "So what?" Wolff quotes him as saying. On the one hand, it seems pretty dumb to not be worried about that. But on the other, Sessions is still in office, so...
On Sally Yates
Trump reportedly called acting Attorney General Sally Yates, the woman he fired after she refused to uphold his travel ban, a c*nt. The world has already heard him using the words b*tch and p*ssy, so this is also not that shocking, assuming it's true.
"Where's My Win?"
"I want a win. I want a win. Where's my win?" Trump was often heard remarking, according to a Hollywood Reporter excerpt of Fire and Fury. He paints Trump as a spoiled child; Veruca Salt without the singing voice.
On Officiating Weddings
Here's an odd glimpse into Trump's love-hate relationship with Morning Joe hosts Joe Scarborough and Mika Brzezinski. "'You guys should just get married,' Trump told them," reads Fire and Fury, according to Newsweek. Trump's Jewish son-in-law, Jared Kushner, then reportedly offered to do the job, identifying himself as an "internet Unitarian minister." Trump is said to have responded, "What are you talking about? Why would they want you to marry them when I could marry them? When they could be married by the president! At Mar-a-Lago!" I would literally rather be married by a bear inside a volcano, but OK.
On Why He Ran For President
Trump never actually wanted to win, Wolff claims; his presidential campaign was only intended to promote his brand, and perhaps start his own cable channel. Wolff claims that absolutely nobody involved, Trump included, imagined that he would actually win. "I don't think about losing, because it isn't losing," Trump reportedly told disgraced former Fox News CEO Roger Ailes. "We've totally won." If fame was, indeed, his goal, he definitely won bigly.