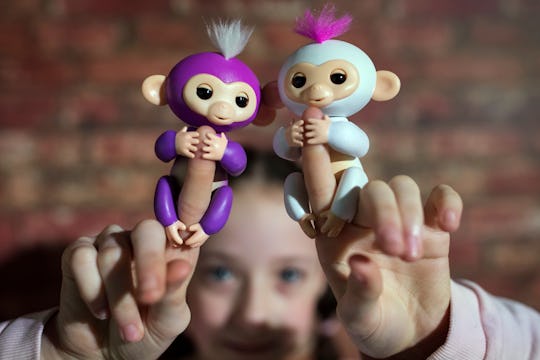 Dan Kitwood/Getty Images News/Getty Images
The Most-Wanted Holiday Toys On Ebay Might Seem Pretty Familiar To Some Parents
What is it about kids and toy animals? At 8 years old, our daughter still forms loving attachments to every plush toy she finds. She weeps bitter tears when they are lost and is nothing short of avaricious in her devotion to expanding her collection. She can't possibly love them equally, I think as I stuff another trash bag with squishy unicorns and fluffy cats for a long staycation in the attic. That's why I wasn't surprised to hear that many of the items on eBay's top 50 toys and trends this holiday season are animal-related: Kids love creatures, whether they're real or pretend, furry or plastic. So why wouldn't they want more of them under the tree this year.
From pooping unicorns to lovably moody dinosaurs, there's definitely an animal on this list that will inspire your kids to stay on Santa's nice list all through the holidays. And that's not a bad thing: The website HealthGuidance reported that toy animals play a pretty important role in kids' development through the years. For instance, babies and toddlers often use them as their first playmates, while kids three and over process life skills by role-playing with them. Research from UV University Amsterdam shows that cuddling a toy animals can reduce stress and anxiety, and what's more nerve-wracking than growing up?
Plus, considering how much adults love their pets, it's not surprising that kids like to have some animals friends of their own. What's not to love? The animal kingdom is filled with strange and fascinating personalities, so playing with pretend animals is a super fun means for kids to learn about themselves and other species without the pitfalls of animal care or unpredictable encounters in the wild.
Now that holiday season is upon us, be quick about snagging these hot toys for the little animal lover in your life. If we learned anything about the Hatchimal craze of 2016, the best toys go to the fastest fingers and eBay's ready for you to get clicking. If you start now, you can avoid the bidding wars that would deprive your child of that must-have item at the top of their list. Just don't kid yourself into thinking you'll ever be able to get rid of them. I seriously wonder if my daughter has developed some kind of echolocation ability to sense when I've whisked a few of her oldies to Goodwill. Her dad and I learned a long time ago that it's not difficult to part with old toys, but it stays if it has a face. (All of these toys have faces, of course, so I guess we'll hang on to them forever.) The items below are just a few of the familiar standouts of the season thus far... perhaps you'll recognize a few?