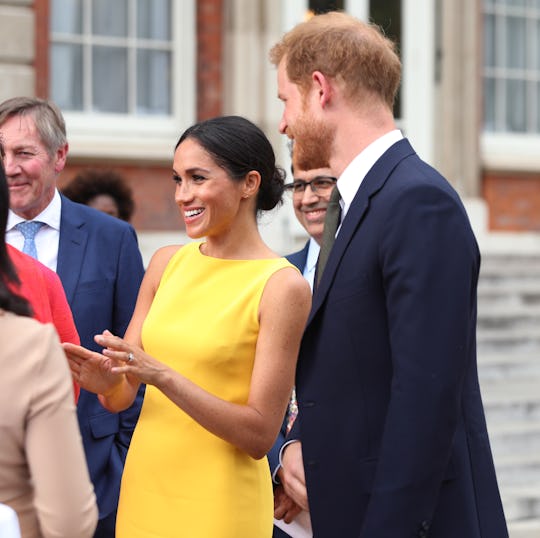 WPA Pool/Getty Images Entertainment/Getty Images
Meghan Markle Has Totally Adopted A British Accent To Go With Her Crown
Meghan Markle, aka the Duchess of Sussex, is basically living a real-life fairytale. If it weren't already enough that she went from being just an average American girl to a successful TV actress, she totally outdid herself by falling in love with a super-handsome British prince. And now the two live happily ever after in an actual palace, no big deal. These days, Meghan spends most of her time looking regal and fabulous during official public appearances as a working member of the royal family, but it's possible that her latest transformation isn't quite yet complete: some fans think Meghan Markle has already adopted a British accent, based on the way she spoke to well-wishers on a recent royal walkabout.
The short clip — shared on Twitter by Aya El Zeiny, who had the chance to speak briefly to Meghan while in the crowd at an event in June — has led to some debate over whether or not the newest duchess might be purposefully attempting to sound like a Brit, despite the fact that her natural American accent has obviously been well-documented on numerous seasons of Suits. Of course, if she is trying the "fake it 'til you make it" approach, she wouldn't be far from the first to do so (Madonna and Lindsay Lohan have both made headlines for their questionable and sudden-appearing accents). But either way, the fact that she's now a full-fledged royal means her accent likely really *will* change eventually.
In the clip, El Zeiny can be heard speaking with Meghan, who asked for her name, and then laughed and thanked her when El Zeiny remarked that she'd long been a fan. It's clear, of course, that the duchess is in full "professional royal" mode, shaking hands and being generally lovely, but if you listen carefully, it definitely does sound like her words were taking on a bit of a British sound. And though she clearly still sounds very American, the slight shift raised some eyebrows on Twitter:
At the same time though, it isn't really that surprising. For one, there's nothing particularly innate about an accent — anyone who has spent time living abroad has probably heard their accent change at least temporarily, and if you've raised a child in another country, you've likely noticed their accent is influenced both by the voices they hear around them, as well as your own (as a kid who was raised in England by Canadian parents, I definitely had a weird half-and-half inflection). Besides, has anyone ever successfully binge-watched Downton Abbey on Netflix without walking away sounding even the tiniest bit posh?
Of course, specifically trying to "do" an accent is much different than simply picking up an accent from living somewhere else. While Meghan might have the advantage of being an actress, and thus, might have to change the way she speaks for a role, for the most part our accents are largely influenced by the sounds we hear as babies, according to Smithsonian, and our brains adapt accordingly — meaning that trying to adopt an entirely new accent, or trying to get rid of one completely, can be incredibly difficult.
In other words? It won't be particularly surprising if Meghan does end up sounding increasingly more British when she speaks — and there might not be anyone who better illustrates this point than Autumn Kelly, the Canadian-born wife of Peter Phillips, Queen Elizabeth II's oldest grandchild, and Prince Harry's first cousin. Kelly and Phillips married in 2008 after they first met in Montreal in 2003, according to Hello!, and like Prince Harry and Meghan, they also tied the knot at Windsor Castle's St. George's Chapel. These days they have two daughters together, 7-year-old Savannah and 6-year-old Isla, according to Town & Country, and live in London, where they occasionally attend royal events (in fact, it was Savannah who stole the show on the royal balcony at Buckingham Palace during Trooping the Colour earlier this year.)
Even though Kelly was born and raised in Canada, it's more than obvious that living in the U.K. for the past decade has changed the sound of her voice quite a bit: in a June 2016 interview with a Canadian news channel, Kelly's accent had become much more of a blend of Canadian and English.
With Meghan certain to have a much more prominent role in the public eye than Kelly does (despite counting the heir to the British throne as a first cousin, Peter Phillips doesn't actually have a royal title), she may not lose her original accent quite as much. At the same time, it also doesn't seem strange at all to think that she may already be sounding less American than she previously had. But honestly? If I were duchess, I'd probably be speaking in the most ridiculous, royal-inspired English accent the moment the ring was on my finger, and I'd also probably wear a tiara to bed. So if Meghan wants to start sounding like a Brit, well, I don't blame her.