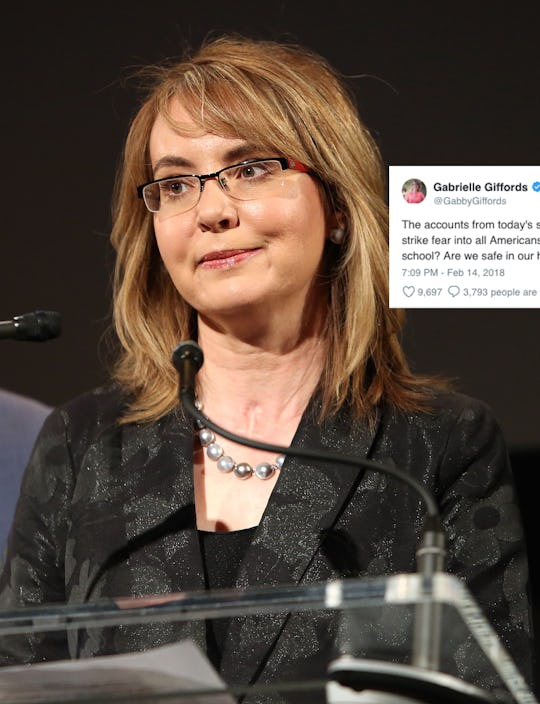 Monica Schipper/Getty Images Entertainment/Getty Images
Gabby Giffords' Parkland Statement Asks The Question On Every Parent's Mind
On Wednesday, 17 people were killed in a mass shooting at Marjory Stoneman Douglas High School in Parkland, Florida. An additional 14 people sustained injuries, five of them life-threatening. In a series of tweets that afternoon, former Arizona Rep. Gabby Giffords' statement on Parkland asked the question on every parent's mind: "Is it safe to send our kids to school?" To put it bluntly, no, it's not. I vividly recall my son coming home from kindergarten and describing his first "lockdown drill," a concept that didn't even exist when I was a child. Students were trained to hide in their cubbies, he told me, "in case a dog got into the school." These kids were too young to even hear about school shootings, but still, they had to be prepared for them.
Giffords, who was shot in the head in an assassination attempt while representing Arizona's 8th District in 2011, has continued her role as an outspoken gun safety advocate since her resignation from Congress. "Even in our grief, we must summon the courage to fight against this fear," she tweeted. "Our leaders must find the courage to escape the confines of their politics & pursue the moral necessity of peace & safety.
Giffords then headed off the inevitable argument from pro-gun legislators:
Defenders of the status quo - advocates of the gun industry & the politicians paid to defend it - will tell you that events like these are virtual acts of nature, products of mental illness or bad parenting, beyond our ability to control. This couldn't be further from the truth. Every day we fail to take action, we chose this fate. We tolerate politicians who fail to acknowledge this crisis and vote against our safety. We let our gun violence epidemic continue day after deadly day.
And like clockwork, there it was, posted on President Donald Trump's own Twitter account at 4:00 a.m.:
So many signs that the Florida shooter was mentally disturbed, even expelled from school for bad and erratic behavior. Neighbors and classmates knew he was a big problem. Must always report such instances to authorities, again and again!
But what good would it do to report a "mentally disturbed" individual to the authorities? Would that have prevented him from obtaining an AR-15 style semi-automatic rifle? Think again. Last February, Trump signed a bill eliminating an Obama-era regulation that added people receiving Social Security benefits for mental illness, and those deemed unfit to handle their own financial affairs, to the national background check database.
Moreover, people with mental illness are far more likely to be victims of gun violence than perpetrators. Only 14.8 percent of U.S. mass shootings have been committed by a person suffering from serious mental illness, according to Politico. Guns, on the other hand, are always involved.
There's widespread bipartisan support for background checks among voters. According to the Pew Research Center, 60 percent of all Americans believe that "the ease with which people can legally obtain guns" contributes a "great deal" or a "fair amount" to gun violence. Even 44 percent of gun owners agree. So why isn't Congress making it harder to get guns? Thank the National Rifle Association.
After 20 children were murdered at Sandy Hook Elementary School, polling showed that 92 percent of Americans supported universal background checks, according to the New York Times. But just four months later, a Senate background check bill was defeated after senators were threatened with bad NRA ratings and negative TV ads. The organization has also successfully prevented a federal gun sales database, and a requirement for gun dealers to maintain accurate inventory records, so tracking who has what, and where they got it, is impossible.
The NRA doesn't represent the interests of responsible gun owners. That's not where the money comes from. According to the Violence Policy Center, the organization received between $19.3 million and $60.2 million from the gun industry between 2005 and 2013 (contributions aren't required to be reported, so nailing down an exact amount is impossible). Membership and program fees make up less than half of the NRA's revenue, according to Business Insider. Having the NRA as a fall guy allows gun manufacturers to escape public ire, so it's well worth it to them.
Apart from the fear of negative publicity, members of Congress have another incentive to back the NRA's agenda. According to Politico, the NRA contributed over $6 million to candidates during the 2016 elections. All told, more than half of the House of Representatives received money from gun rights groups. The top earner was Speaker of the House Paul Ryan, who raked in a whopping $171,977. And it's nothing new; since 1990, 27 representatives — all Republicans — have each received more than $100,000 from the gun lobby. Click over to Politico's searchable database to see if yours is on the list.
I'll leave you with Giffords' closing words: "The question now is if we will find the courage to pass the laws we need to protect our children, to stop dangerous people from accessing guns. And if Congress won't act, American voters must."