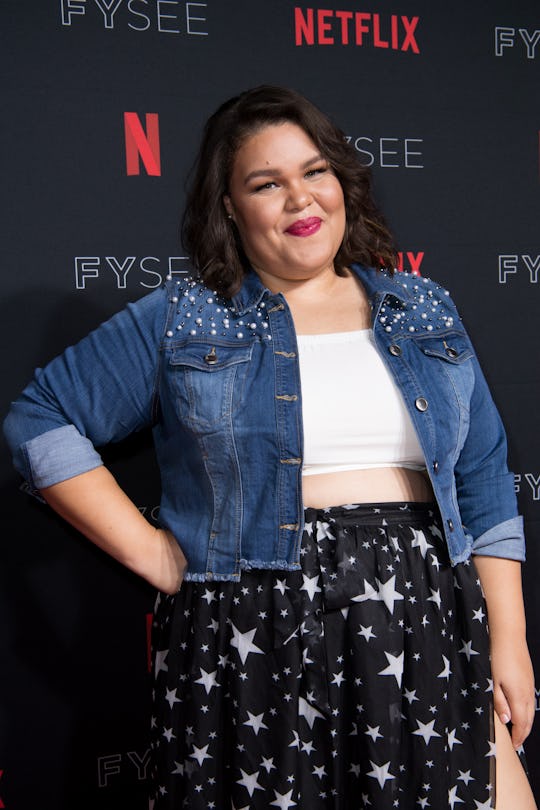 Emma McIntyre/Getty Images Entertainment/Getty Images
Britney Young Is The Body Positive Superhero We Need
You probably know her as the lovable Carmen "Machu Picchu" Wade from the popular and critically acclaimed Netflix show GLOW. But if all goes to plan, the world will soon be seeing a lot more of Britney Young. And personally, I couldn't be more excited. Young chatted with Romper over the phone about what she loves about her character on GLOW, what Hollywood needs to start doing differently to be more size inclusive, and what she wants to do next in her career. She also happens to be a lot of fun to talk to.
On GLOW, Young plays the soft-spoken and generous-hearted Carmen, who comes from a family of professional wrestlers — so the other Gorgeous Ladies Of Wrestling often turn to her expertise for the technical aspects of their sport. But it wasn't the wrestling that first attracted Young to the role. It was the fact that Netflix (and showrunner Jenji Cohen) seemed to be genuinely looking for diversity in its cast, particularly with size-diversity. Young explains that so many of the casting breakdowns she finds call for plus-size women or tall women to play menacing, aggressive types like bullies or prison guards. "So to see that they were looking for someone that had a bigger stature but was actually gonna play a nice person, I was like 'This must be fake. I have to be sure this is real,'" Young says.
While Young acknowledges that Hollywood is taking baby steps to be more size-inclusive, there's still a long way to go. She says that bigger actors are still being stereotyped, or called in only because of their size. "They're not being called in to play any type of personality." And while some plus size actresses have found success and acclaim in the industry, their number is woefully small. Young calls for more representation of not just one kind of plus size body, but for more bodies in general. "Because not all plus size bodies are made the same. Not all bodies period are made the same," she says. Hear freakin' hear.
Luckily for Young, the success of GLOW and the audience response to the character of Carmen is already starting to open some more doors. And she has a couple of dream roles in mind. "I really wanna play Faith, the new plus-size superhero," she says. Faith is a Valiant Comics character described as a total sci-fi nerd and entertainment writer with the power of telekinesis (so she's me plus the ability to move things with her mind). Sony Pictures recently announced their plans to move forward with a live-action film version of the comics, which would make Faith the first plus-size superhero. And thanks in part to the success of GLOW, Young says, "I definitely believe being a superhero is now within my grasp. Like it's a possibility."
Personally, I'm incredibly jazzed at the prospect of seeing Young as the bubbly and pop-culture-minded hero. But until that movie comes closer to being a reality, Young says she's still happy with where she is at the moment. "For right now, I'm definitely enjoying being on GLOW and all the projects that have come my way so far. So it's been a good ride."
Because Season 2 of GLOW has only recently aired, it will probably be another full year before Season 3 arrives. So in the meantime, I'll be considering all the things I want to see from Carmen (and Young) next.