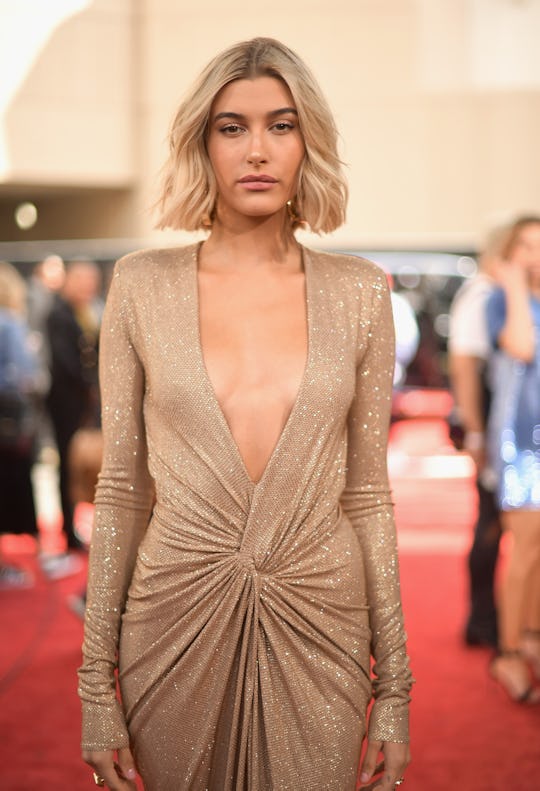 Matt Winkelmeyer/Getty Images Entertainment/Getty Images
Hailey Baldwin Is Rocking A Massive Ring Amidst Engagement Rumors
As if Justin Bieber and Hailey Baldwin's alleged engagement wasn't already mirroring Ariana Grande and Pete Davidson's enough, Baldwin was just spotted wearing a ring on that finger (much like Grande was right around the time news of her and Davidson's engagement broke). And based on photos, Hailey Baldwin's rumored engagement ring from Justin Bieber is absolutely huuuuge.
Baldwin, 21, is a model and the daughter of Alec Baldwin's brother, Stephen Baldwin. She and Bieber, 24, allegedly got engaged Saturday July 7, TMZ reported. The following day, the couple was reportedly spotted at Nippers Bar & Grill in the Bahamas, where she had a rock on her left ring finger, TMZ reported Sunday afternoon. In photos shared by the outlet and on Twitter, Baldwin's ring looks like large oval-shaped diamond set on two gold bands. TMZ also posted a video of the couple goofily dancing on the beach in the Bahamas to "Despacito." (It's unclear if the version playing is the original, or the remix that Bieber is featured on, and I really wish there was a way to know.)
News of the engagement broke this weekend, after two sources staying at the same Bahamas resort as Bieber and Baldwin spilled the beans to TMZ. During a salsa dancing session at the resort, Bieber's security reportedly requested that everyone put their phones away, and then Bieber popped the question to Baldwin in front of the crowd.
The couple has yet to comment on the engagement rumors, but there's plenty of evidence suggesting it's true (in addition to the ring). For starters, both Bieber's mom and dad shared cryptic excitement on social media over the weekend. His father, Jeremy Bieber, shared a photo of his son, captioned:
@justinbieber Proud is an understatement! Excited for the next chapter!
Bieber's mother, Pattie Mallette, tweeted a very appropriate word over and over: "Love Love Love Love Love Love Love." She also tweeted a quote from 1 Corinthians 13, the chapter of the bible that covers love and is commonly read at weddings.
Stephen Baldwin also expressed a vague congratulations to his daughter and the Biebs in a since-deleted tweet. According to unverified screenshots stealthily captured and shared on Twitter by fans, Baldwin tweeted then deleted:
Sweet smile on my face! me&wife (Kennya) Always pray 4 Gods will !! He is moving in hearts of JB&HB. Let's all pray for His will to be done. Love you 2 so much !!! #Godstiming "#bestisyettocome Congrats ❤️ ... #PraiseJesus
He even tagged Bieber's mom and dad in the alleged deleted tweet.
In addition to the vague messages from the soon-to-be in-laws, a source told People:
It's kind of a surprise, but kind of not. Justin has been extremely happy these past few week ... He has known Hailey for a long time. This might seem sudden, but they know each other very well.
While it's impossible to say if the alleged source's statement is entirely true, it is in fact true that the couple has known each other for a long time. They were first spotted publicly hanging out back in 2014, when they attended church together along with their mutual friend, Kendall Jenner, CNN reported. Rumors of a Baldwin-Bieber romance went around for years, thanks to the duo chronicling their friendship on social media, and in January 2016, they finally confirmed that ~something more~ was going on via the following steamy photo on Justin's Instagram:
By August 2016, the couple had reportedly broken up, CNN reported. And as recently as May 2018, Baldwin was still fielding questions about their breakup. However, new photos of Baldwin and Bieber kissing hit the internet in June 2018, and rumors began to swirl that they had gotten back together. Just a few weeks later, the two were reportedly engaged.
Whether or not their engagement is for real, it's clear that Justin Bieber and Hailey Baldwin's relationship has a long history — and that they have great taste in jewelry.