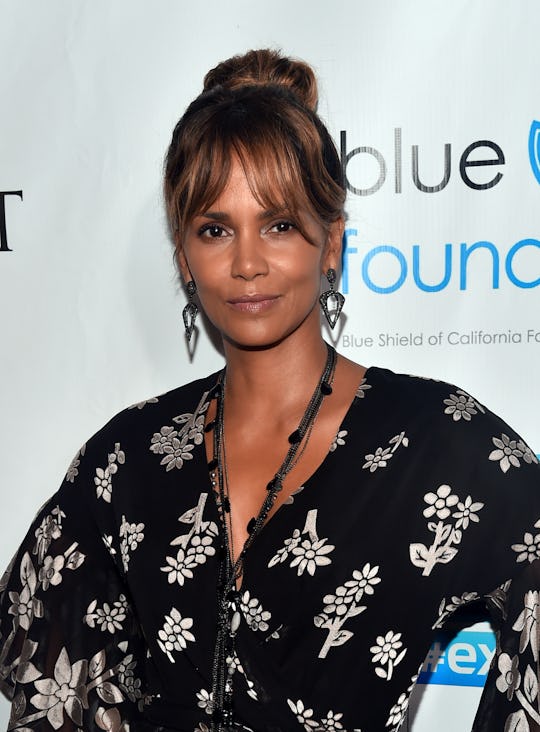 Alberto E. Rodriguez/Getty Images Entertainment/Getty Images
Halle Berry Explains Why She's Finally OK With Sharing Her Son's Face On Social Media Now
Celebrity parents might have it easier than the rest of us in some ways. Their paychecks are probably significantly better, as are their homes and cars and such. But there's one issue they have to contend with that generally doesn't come up for us regular people: how much of your children do you share on social media? If you share too much, you might be accused of exploiting them but if you don't share enough, people will try to sneak their own pictures. As a mom of two, Halle Berry explained why she's OK with sharing her son's face on social media after avoiding it for some time. And it's not a decision she made lightly.
Berry has two children from two previous relationships, according to People: 10-year-old daughter Nahla Ariela with ex-boyfriend Gabriel Aubrey and 4-year-old son Maceo Robert with ex-husband, actor Olivier Martinez. The 51-year-old actress has been fiercely protective of her children's privacy, which naturally has gotten much more difficult with the advent of so many social media platforms. But during a recent trip to Bora, Bora, Berry decided to give her fans a little peek of her gorgeous son. It was just the right side of his face, mind you, but sharing the photo was a conscious decision, which Berry told Extra in an recent interview she mulled over.
As Berry told Extra, her decision to share a picture of Maceo was "a struggle…," adding:
I really don't like to show my kids very much… but I do realize… my people are, like, solid for me and me for them and I feel like I want to include them. But it's a fine line because I don't want to exploit my children… I want to protect my children, so I thought, "Half the face is good."
In the past, the Monster's Ball actress has shared a few pictures of her kids, but almost never pictures of their faces. This was her own decision obviously, but it didn't stop one internet troll from calling her out in October 2016. According to Us Weekly, the critic wrote: "What's with the hiding of the faces? They're beautiful children why not show them off?"
I mean, I'm not sure why this person felt they had the right to insist on seeing her children's faces, that's beyond creepy. But don't worry, Berry took the troll all the way down with her brilliant response, according to People:
I've noticed you have said this several times now so let me be clear — I'm not at all ashamed of my children. I try to find creative ways to incorporate them into my feed because they are the biggest part of my life, but I also work very hard to keep their identities as private as I can considering they are only children. It's my belief, and I'm not criticizing others who have different beliefs, that it's my job as their mother to protect their privacy as best I can.
It seems so ridiculous to keep saying this but let's all say it again: nobody owes you a picture of their kids. Nobody. Not a celebrity, not your neighbor, not your cousin. Nobody. I totally understand why Halle Berry decided to share a little something of her son; let's face it, when your kids are pretty much your whole life, it's hard to keep it to yourself. And I strongly suspect that Berry's two children are pretty much everything to her.
So if she happens to share a picture of her kids, just be happy for her. Be grateful that she was generous enough to share. And remember that she doesn't owe her fans pictures of her kids.