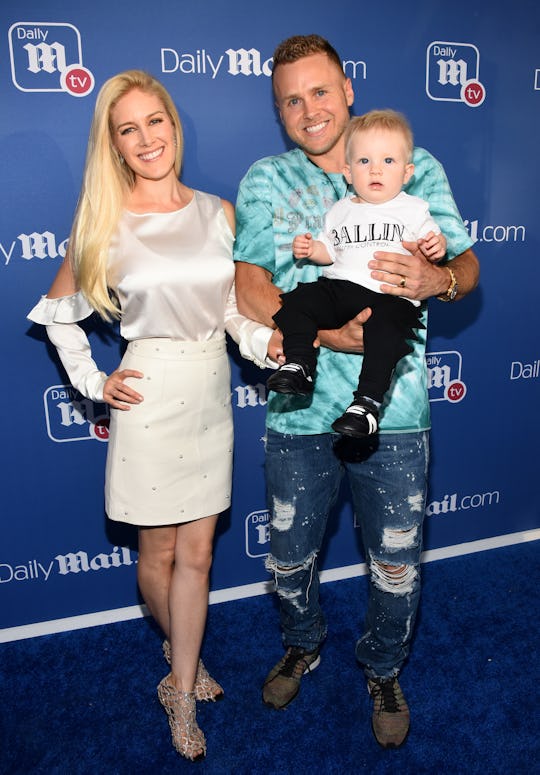 Araya Diaz/Getty Images Entertainment/Getty Images
Heidi Montag & Spencer Pratt Want More Kids, OMG
Fans of reality TV in the early 2000's are well aware of Heidi Montag and Spencer Pratt — the couple from the MTV reality show, The Hills. Together, they were madly in love with each other and headstrong, regardless of whether people liked their relationship or agreed with them. But since their time falling in love on The Hills, fans have been able to follow along with the couple's journey through marriage and becoming parents for the first time, all thanks to social media. After welcoming their first child into the world last fall, Heidi Montag and Spencer Pratt said they want more kids in a new interview with E! News, which is super exciting for anyone who continues to follow along with the couple, just like they did when they watched The Hills.
After welcoming their son, Gunner, into the world last October, according to E! News, the couple has not been able to get enough of him. Anyone who follows Pratt and Montag on social media knows how much their son means to them. Pratt, who loves posting to Snapchat constantly updates fans with adorable photos and videos of Gunner doing everything with his parents. Because they have so much love for their little boy and seem to be loving this new journey into being parents, it shouldn't come as a surprise that the couple is definitely ready to have more kids, according to People.
When asked if the couple thought about having more kids, Pratt told E! News, according to People, that they think and talk about having kids "every day" and are aiming to have their second child "next year." So exciting — especially for fans (like myself) who can't get enough of all of their Snapchat and Instagram story posts with Gunnar. He really is a super cute baby — and for him to have a sibling would probably be even better.
But Pratt and Montag aren't just going to try for a second kid and see what happens. Instead, the couple told E! News that they have a plan for how many kids they want. Montag said, according to People:
I'd love a girl or a boy. I love having a son. It's so much fun. So if we have another boy, we'll probably have three [kids].
As previously stated, it is clear from their social media accounts that both Montag and Pratt really love being parents. This is especially true for Montag, who has openly talked about how much she loves breastfeeding Gunner, according to TODAY, to how much she loves and appreciates her post-baby body, according to Us Weekly. And Montag's comments about being a mother are just as sweet. In an Instagram post in January, Montag wrote about how much being a mom meant to her, according to TODAY. Montag wrote:
Being a new mamma has been the most amazing journey of my life, but it's also been the most challenging. I think you can never prepare for this experience. Everything you think you know goes out the window...
Even Pratt is surprised by how much he loves being a dad, according to People. "It's a scary amount of fun," Pratt said.
And just as much as Montag loves being a mom, Pratt loves being a dad. This past April, Pratt revealed to People that being a father has made other people seem more pleasant to him, seriously. Pratt said, according to People:
My favorite part of fatherhood is seeing a baby so innocent. Until you watch a human being born and watch a little baby growing and learning how to smile and waiting for a baby to giggle...it's definitely made me enjoy humans more.
It's awesome that both Montag and Pratt are on the same exact page about being parents and how many kids they want. Who knows? Within a matter of time, people could be seeing Montag with a baby bump soon enough.