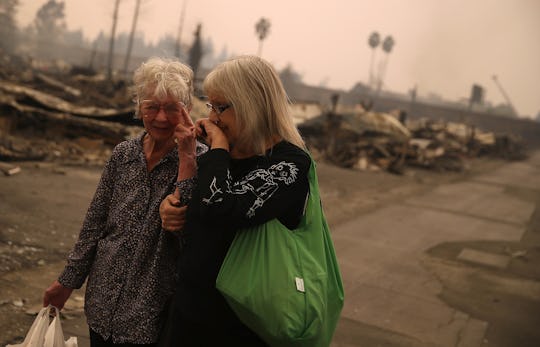 Justin Sullivan/Getty Images News/Getty Images
These Are The Supplies The California Wildfire Victims Need Most Right Now
More than 20,000 people have been ordered to evacuate as raging wildfires in Napa, Santa Rosa, and Sonoma, California, have destroyed thousands of buildings. According to officials, at least 17 people have been killed in the fires, and dry conditions combined with high winds have only exacerbated these massive fires in the last few days. More than 122,000 acres of land have been burned by the fires, leaving thousands displaced in shelters throughout the region. With so many people having lost literally everything, these are the supplies the California wildfire victims need most right now.
Victims who have either been ordered to evacuate or have fled the wildfires on their own are currently sheltering at area schools, community centers, and churches, with many already at capacity according to a list of Sonoma County evacuation centers. Needs are high among these shelters — not just for the victims, but for the volunteers staffing the shelters as well. There are obvious immediate needs, such as non-perishable, ready-to-eat foods — but people who have lost everything in the wildfires will need other items in the coming days such as clothing, blankets, and gift cards to stores as they rebuild homes and businesses that have been completely destroyed.
A comprehensive list of Northern California wildfire shelters can be found at The Sacramento Bee website, so you can see where to send what supplies.
Non-Perishable, Ready-To-Eat Food
The Redwood Empire Food Bank is an organization that is providing food needs for many of the evacuation centers sheltering victims from the wildfires. It has been coordinating a massive collection and distribution effort to feed the wildfire victims. You can find supply requests, drop-off information, and other updates at its Facebook page.
Bedding & Linens
The Sacramento Bee has reported that many shelters are in need of linens and bedding. While it might be tempting to donate your old linens, new bedding is needed most.
Toiletries & Diapers
Many shelters are in need of basic toiletry supplies such as toothpaste, soap, shampoo, and feminine care products. Additionally, families with young children are also in desperate need of diapers.
Pet Supplies
There are a number of both little furry friends and large animals such as horses and cattle who have been just as affected by the California wildfires. Both the Sonoma Humane Society and Sonoma Country Animal Services are in dire need of the following items: "water bowls (any size), disposable lasagna pans (for cat/kitten litter), animal food, including: sweet mix for horses or goats, egg layer for chickens, pig feed, dog and cat food (wet or dry - any brand) and grass hay for all, grain buckets, baby/wet wipes."
Cash Donations
In the aftermath of disasters, many times the best thing you can do if you're not local to the area is to donate cash. It just might not be feasible to try and send or deliver supplies to the affected region, but there are many organizations and groups mobilized to help the victims of the California wildfires who can use those funds to purchase and distribute such supplies. GoFundMe has created a California wildfire relief hub. The Napa Valley Community Disaster Relief Fund is also accepting donations online.
As harrowing photos of the California wildfires show, America's Wine Country has been left in ruins, with many families returning to find their homes burnt to rubble. People affected by the Northern California wildfires are going to need tremendous amounts of help and supplies in the coming weeks and days. If you're looking for other ways to help the wildfire victims whether you're local or elsewhere in the country, check out Romper's round up here.
Watch Romper's new video series, Romper's Doula Diaries:
Check out the entire TK series and other videos on Facebook and the Bustle app across Apple TV, Roku, and Amazon Fire TV.