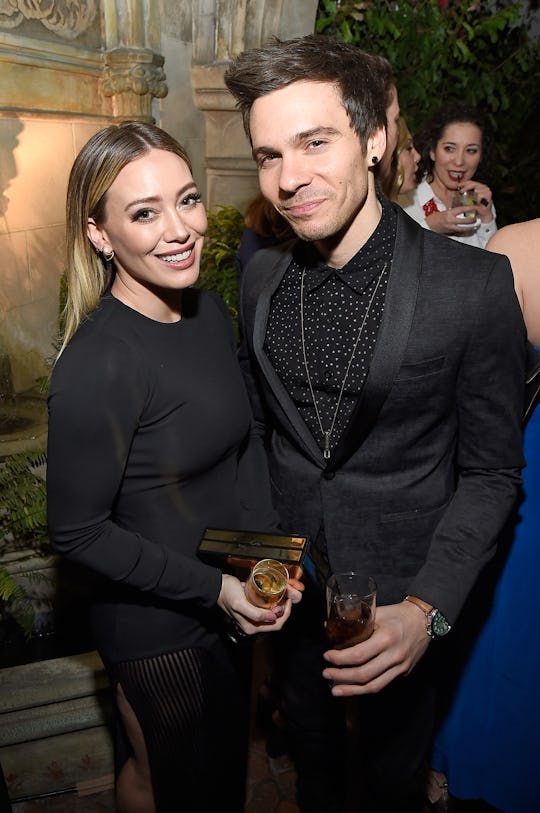 Matt Winkelmeyer/Getty Images Entertainment/Getty Images
Hilary Duff & Matthew Koma Compared Their 'Bumps' In This Sweet New Photo
Hilary Duff is totally embracing her pregnancy with her second child and in the weeks since announcing she's expecting a baby girl with her boyfriend, musician Matthew Koma, she's been sharing the sweetest photos of her bump. But her newest pregnancy photo might be the best one yet. In a new post on Instagram, Hilary Duff and Matthew Koma compared their 'bumps' while posing in an elevator and the photo is so sweet for so many reasons.
It's hard to believe that it's only been a little more than a month since Duff first announced that she's expecting her second child, her first child with Koma, according to TODAY. It was through a post on Instagram where Duff initially made the very exciting announcement and casually revealed her baby's sex, too, according to TODAY. "Matthew Koma and I made a little princess of our own and we could not be any more excited!" Duff captioned the photo announcing her pregnancy.
Since then, Duff's excitement has also reached fans. In every single photo that Duff has posted of her bump since, she seems so thrilled to welcome her future daughter — which is expected to happen later this year, according to Us Weekly — and her Instagram post from this past Friday only highlights that.
In the photo, Duff can be seen striking a pose in a form fitting pink dress that shows off her bump in all of its glory. Meanwhile, Koma stands facing her with his own stomach — or "bump" — out for the world to see. And as Duff pointed out in the caption, her bump takes the cake. "I win," the expectant mama wrote.
Fans definitely agreed with Duff, too, taking to the comments section of the photo to gawk over her adorable bump and how it seemed to stick out in the most interesting way. "You can literally SEE THE BABY in your belly," one fan wrote.
"Is it just me or does anyone else see a face in her belly?" another added.
"Oh wow!" another said. "You can really see where the baby is positioned. Awww!"
But Koma probably had the best comment of all. "Are you pregnant !?!" Koma joked
Whether it was the lighting in the elevator where the photo was taken or the fact that Duff's little girl really wants to make herself known, you can't argue with the fact that her bump looks so present in this new photo. Duff's comments about her pregnancy in the past month have been just as prominent as her bump in this photo, according to the Daily Mail.
During an interview on The Late Late Show With James Corden, Duff revealed to the show's host, James Corden, that she is super excited to have a baby girl. But, Duff's 6-year-old son, Luca — whom she shares with ex-husband, Mike Comrie, according to Us Weekly — had some other thoughts about becoming a big brother. Duff told Corden, according to People:
The beginning was a little, a little a...he was surprised. And now he's warming up to the idea. He told his friend at school that he was having a sister that's part red-butt monkey. So we'll see! It will be a first. That will be really cool.
Although Luca might still be warming up to the idea of having a baby sister soon enough, Duff and Koma are literally glowing with excitement for their baby-to-be's arrival.