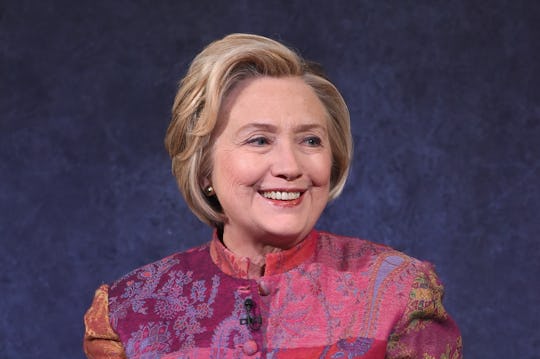 Jamie McCarthy/Getty Images Entertainment/Getty Images
Here's What Hillary Clinton Did Instead Of Responding To Trump's SOTU Address
Hillary Clinton thankfully didn't just disappear into the woods of Chappaqua, New York with her dog after she lost the 2016 presidential election. Between appearances at the 2018 Grammys, women's conferences, and tweeting about issues close to her heart, the former presidential candidate has stuck around, much to the delight of her supporters. Which is why some people were totally bummed that Hillary Clinton didn't respond to Trump's State of the Union speech on Tuesday.
Some Democrats didn't even attend the address, opting instead to watch one of the many other events going on or just stay the heck off of social media. Given that Politifact's fact-checking website actually broke during Trump's address, Clinton's head might have exploded if she had listened to her former opponent exaggerate about his successes or expound on some of his more controversial views on immigration and foreign policy.
It turns out that Clinton was doing more serious things on Tuesday night. Just before the State of the Union began, she posted a long message on her Facebook page about a New York Times report of how she allegedly handled a sexual harassment case against a staffer on her 2008 campaign.
Clinton expressed regret for how she handled the situation — she reportedly did not fire the staffer, though she docked his pay and made him go to counseling, as HuffPost reported. She wrote on Facebook Tuesday night:
He needed to be punished, change his behavior, and understand why his actions were wrong. The young woman needed to be able to thrive and feel safe. I thought both could happen without him losing his job. I believed the punishment was severe and the message to him unambiguous.
It was a very good time for her to make her statement, as the story broke late last week and other than a few tweets, she hadn't addressed it.
So Clinton was taking care of her own business and holding herself accountable to her supporters leading up to the State of the Union. Still, it was odd that she didn't tweet about the president's speech as it happened or shortly after, too.
Clinton's not one to stay quiet about things that are important to her just because people might have something to say about it. On Twitter, at least, she's been closely following the budget negotiations in Congress, urging legislators to act in the name of immigrants and children's health insurance. She also takes time to observe important holidays and anniversaries, as any former Secretary of State should.
Earlier this month, for example, she tweeted about Haiti, writing on Jan. 12, "The anniversary of the devastating earthquake 8 years ago is a day to remember the tragedy, honor the resilient people of Haiti, & affirm America's commitment to helping our neighbors. Instead, we're subjected to Trump's ignorant, racist views of anyone who doesn't look like him."
Despite incessant attacks from Trump and his administration officials, Clinton is steadfast in her disapproval of Trump. She got very real on The Washington Post's "Cape Up" podcast, saying:
He is a con artist, and that's what Mike Bloomberg called him at our convention and every day that goes by seems to prove that. So what is the tax reform meant to do? It's meant to put money into the pockets of him and his family. It's meant to save his estate and therefore his children from having to pay taxes on whatever it is he's worth. It's meant as a gift to billionaires who he pays more attention to than the folks who put their faith in him during this election.
So it's likely that during the State of the Union on Tuesday she was rolling her eyes so hard she couldn't muster her tweeting thumbs. Although Clinton told Graham Norton late last year that she mostly "ignores" Trump's "Twitter tirades," as she called them, according to The Independent, she's definitely paying more attention than she lets on to the president's messaging, just like the rest of us. However, it's better that she was able to address her handling of sexual harassment within one of her campaigns and set the record straight.
Because it's clear from her previous remarks about the president that she has no time for this administration, so it wasn't like we needed Clinton to pipe up during Trump's State of the Union address this week. But if she does decide to tweet about it later this week, or further open up about how she handled sexual harassment on her campaign in 2008, I'm here for it.
Disclosure: Hillary Clinton's son-in-law Marc Mezvinsky joined Social Capital, an investor in Bustle Digital Group, in mid 2017 and joined the Board of Bustle Digital Group in early 2018.
Check out Romper's new video series, Romper's Doula Diaries:
Watch full episodes of Romper's Doula Diaries on Facebook Watch.